Cableguys massively modulatable dual filter plugin gets supersized for FilterShaper XL.
Cableguys has announced the release of FilterShaper XL Modulatable Dual Filter. It's an update to its FilterShaper 3 plugin, originally released in 2014. Described as a 'modern reboot' of the original, FilterShaper XL has been updated with new features, modulation capabilities, support for additional formats and more.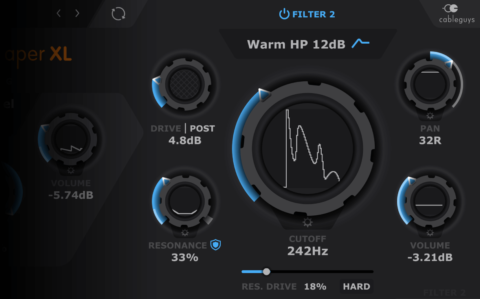 FilterShaper XL is built around two multi-mode filters, both of which feature a redesigned filter algorithm that offers 20 filter types, including variations on low-pass, high-pass, band-pass, notch and peak. 'Warm' filter types recreate the sound of the "Sallen-Key filters of a legendary semi-modular synthesizer" while the 'Clean' options offer a more precise, modern and digital sound.
The original FilterShaper was praised for its deep and complex modulation options, and FilterShaper XL is taking the modulation possibilities of its younger brother to new heights with 60 LFOs and 50 envelope followers onboard. Every parameter in FilterShaper XL is equipped with its own LFO (including the LFO parameters themselves) and customized waves can be drawn in using the LFO-editing tools found in CableGuys ShaperBox 3.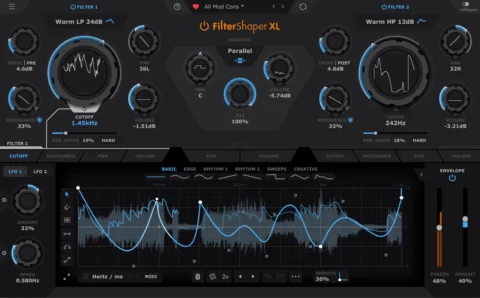 Also new in FilterShaper XL is a drive algorithm that's said to be capable of everything from subtle saturation to gnarly distortion. Drive can be applied at both filter stages, pre- or post-filter. FilterShaper XL's revamped interface is now resizable, and its preset library browser has been redesigned and equipped with a variety of new filter presets.
FilterShaper XL is available now in AU/VST2/VST3/AAX formats for Mac and PC. It is currently priced at an introductory €49/$49/£49 before it goes back up to €79/$79/£79, but if you own FilterShaper 3, you can have it for free.
Find out more on Cableguys website.
---