AudioThing strikes again with Mantis, a plugin emulation of a rare BBD echo/delay from Carlsbro Mantis
Carlsbro Mantis is a rare BBD delay/echo unit from the '70s. If you've not heard of the Carlsbro Mantis, you are not alone, however, now there's no need to pray for a hardware revival. You will soon know about AudioThing's plugin emulation, as we are about to tell you about it.
As on the original, you get an echo section with four taps and four swell selectors. The rotafaze section, meanwhile, is designed to mimic the wow/flutter of a tape echo or turn the device into a chorus/delay. As a whole, the plugin is designed to emulate its forebear's warm, analogue sound.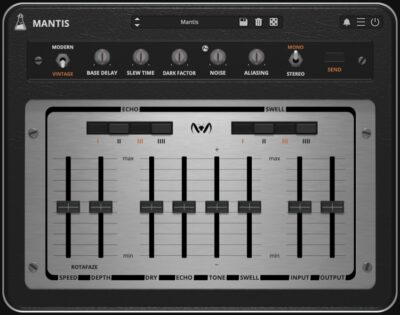 Mantis works in one of two modes: vintage or modern. The hardware version had a fixed based delay time, but in vintage mode here it can be set between 0.512ms and 51.2ms. The modern mode, has a base delay time of one second, syncable to host tempo.
The frequency response in BBD circuits changes depending on the speed of the base delay, being brighter at faster rates and darker at slower ones. Having these different settings enables you to experience this.
Mantis is available now for Windows and Mac in VST/AU/AAX/CLAP formats, and will be coming to iOS devices soon. Find out more and download a demo version on the AudioThing website
---