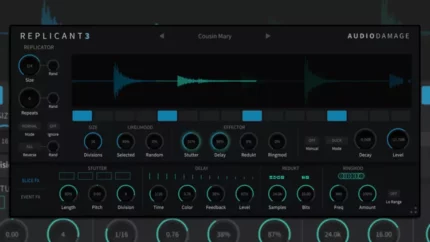 Audio Damage Replicant 3 multi-effects plugin is a sound-mangling glitch powerhouse.
The very first edition of Audio Damage's Replicant released in 2007.
Replicant included: this glitch-happy effects processor is now on its third iteration, and updates with a slick new GUI and a ton of new features, making it something of a one-stop shop for stuttered, IDM-esque glitchiness that's actually capable of so much more.
Following a ground-up redesign, Replicant's interface has been vastly improved, and everything's laid out in an orderly fashion, making it relatively easy to use. The plugin enables you to loop, slice, reverse and rearrange audio in real-time. Alongside the original STUTTER slice effect, it's been outfitted with DELAY, REDUKT (bitcrusher) and RINGMOD (ring modulator) effects.
The plugin's REPLICATOR sequencer now has an arbitrary number of steps (from 3 to 16 per measure) meaning complex rhythmical effects can be applied. The Event FX panel has been bolstered with a new envelope feature that allows for cross-fading audio slices. There's also an onboard filter, controls for pitch and panning, and several dials for parameter randomization that can create unpredictable, probability-based patterns.
There's more than a few presets included in the revamped preset manager, so you will be able to get start getting glitchy with very little preamble. The new version of Replicant will play nice with MIDI, and it's even available as an iOS app, meaning touchscreen-based performances are only a download away.
Watch a sound demo from YouTuber 2 small figures below:

Replicant 3 is available in AU, VST3, AAX and CLAP formats. Replicant 3 cost new customers $69 but is only $20.00 for owners of the previous versions. The iOS app will only cost you $2.99 and is available from the App Store.
Find out more on Audio Damage website
---