Air Music Tech's 'wild' new Ether plugin is said to be "a reverb like no other"
Air Music Tech promises to take reverb to some wild places with Ether, its latest plugin. That's because, as well as offering eight distinct reverb space settings – ​​plus pre-delay, reverb time and damp controls – you also get five post-reverb, bypassable processing modules that you can use to switch things up.
These include Pitch, which enables you to shape your reverb's timbre, and Modulation, which can be used to add motion. The Delay module features Time and Feedback controls for more sonic sculpting, and more energy can be added in the Animation section. And, the Compressor gives you control over your sound's dynamics.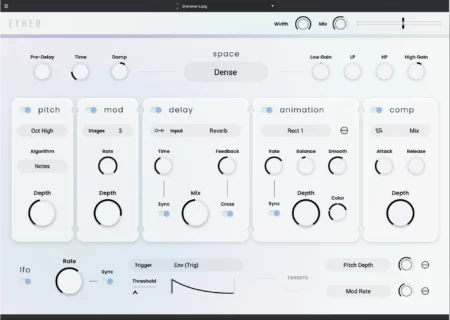 In addition, the LFO/Envelope section with four modulation modes, and a selection of "logically categorised" presets.
Ether runs on PC and Mac in VST/AU/AAX formats. The regular price will be $105.99, but it's currently available for $52.99, and there's also a 10-day trial version.
Find out more on the AIR Music Techology website.
---