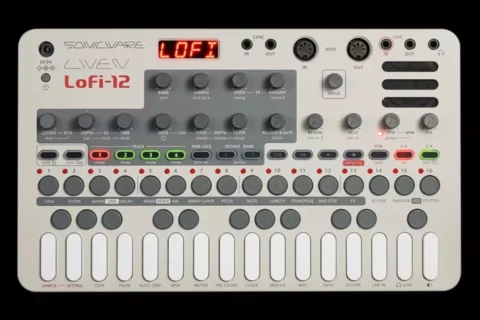 Sonicware has released a free major update for its Liven Lofi-12 sampling groovebox.
The update adds new features for resampling, chopping and remixing.
What's new in Liven Lofi-12 v2.0:
Chopping – Two new voice modes called 'Drum' and 'Chop' auto-slice samples easily with the newly developed Downbeat Divider*. Sliced sections of a sample are then spread across the keyboard making finger drumming possible.
Resampling – Patterns and tracks can be resampled by internally recording the audio output into a new sample. Real-time resampling of your keyboard playing is also possible.
Remix Effect – A beat repeater effect 'R.MIX', added to the master effect options, makes glitchy real-time performances possible.
The new features are designed to work well with each other, so you can create drum tracks with auto-slicing and record performances that are not constrained by the grid of the internal step sequencer. You can also resample samples and tracks for infinite effects processing and even build your own beats and kits ready to be sliced up in the Drum and Chop modes.
Video intro to Liven Lofi-12 v2.0:
The Liven Lofi-12 is available now for $239. Version 2.0 is available as a free update.
---