Roland SP-404 portable sampler sometimes looks like it sits in a product category all of its own, but it would soon be joined there by Sonicware SmplTrek, a handheld sampler that's just made its debut on Kickstarter.
SmplTrek is a portable sampler and music production system that lets you record sounds with the built-in microphone, your microphone, electric guitar connected to the input, or even a USB-connected smartphone or PC/Mac.
This compact device promises one-touch sample recording. Sounds can be recorded with or without effects, edited, and then quickly assigned to pads for sequencing. Once you have created the samples you want, you can use them to build complete songs.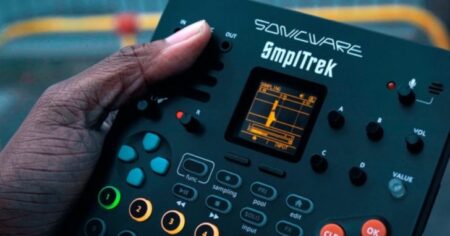 Each song project has 16 sequential parts called "Scenes". Each Scene has 10 sequencer tracks which can behave in different ways, as described below:
Loop Track: Sequencer for a looping sample
Shots Track: Sequencer for a single one-shot sample
Drum Track: Step sequencer for drums
Instrument Track: Piano roll type sequencer for musical instruments
MIDI Track: Piano roll type sequencer for external MIDI equipment
Three additional Global Audio Tracks are available for longer recordings like vocals and external instruments. These tracks can record multiple takes which can be spliced into a final perfect version. Traditional "punch-in" style recording is also supported.
More than 500 samples and over 100 drums kits are included internally, so you can get started right away.
Production of the SmplTrek is being funded via a Kickstarter project, and it is available to project backers for around $291. The funding target has already been reached, so backers should start receiving their units in September.
*Note: Crowdfunded projects involve risk, so make sure you read the project details.
---