Boss SP-303 Dr. Sample was a digital phrase sampler and effects processor  released in 2001. The compact machine's affordability and ease of use made it popular with musicians and producers.
Dr. Sample has now been discontinued, but if you are looking for a software-based alternative you will be pleased to know that developer, producer and YouTuber Blezz Beats has taken inspiration from the SP-303 for a new plugin, Mr. Sample.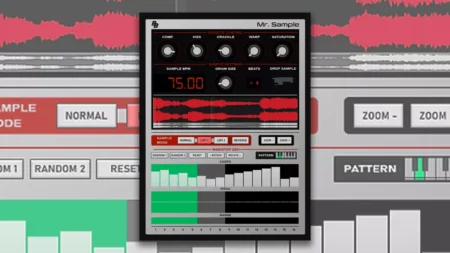 Despite the similarity in name and the matching colour schemes, Mr. Sample does not replicate the Dr. Sample button-for-button. Instead, it aims to put in software what the SP-303 did in hardware: a relatively inexpensive sampler instrument that is fun, easy to use and loaded with effects.
Drag and drop samples into Mr. Sample and you'll be able to chop them up and rearrange the slices or randomize them for glitchy patterns. Samples can be pitch-shifted and time-stretched, with the latter sounding particularly good, and aiming to capture the sound of the digital artifacts produced by the SP-303.
Mr. Sample has four sample modes: Normal, Lo-fi 1, Lo-fi 2 and Reverse. The lo-fi modes will give your sound some grit and grime, emulating the sound of the SP-303's lo-fi modes, while Reverse will play each sample chop backwards.
The plugin falls short of delivering as many effects as the SP-303, which offered 26 effects and was beloved for the gritty sound of its vinyl simulator. The Mr. Sample plugin offers five effects that should nonetheless appeal to anyone interested in crunchy lo-fi beatmaking: Compression, Hiss, Crackle, Warp and Saturation.
Mr. Sample costs $50 and is available for Mac and Windows in VST, VST3 and AU formats.
Visit Blezz Beats website to download Mr. Sample.
YouTuber SamKing's deep dive on the Boss SP-303:

---