Electronic Keyboards
Digital Pianos
Portable Keyboard
Synthesizers & Workstations
Free shipping on most items over $9.99!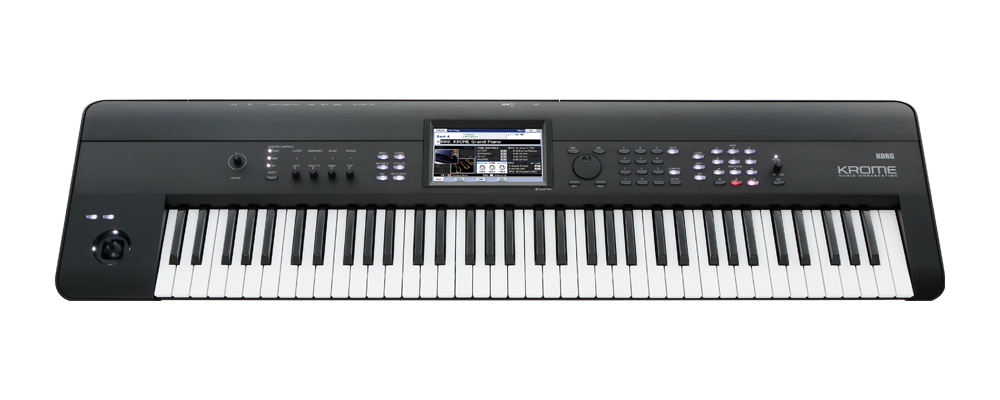 The Korg Krome 61 Music workstation features 61-key semi-weighted, natural touch keyboard, offering a beautifully natural response and feel that lends itself to all styles of playing, 16 track sequencer, auto-song set-up functionality, Cue Lists and realtime-pattern/play-recording (RPPR), dual polyphonic arpeggiators, Efects; 5 Inserts, 2 Master, and 1 Total FX.
The Krome offers dual polyphonic arpeggiators, providing two simultaneous arpeggiators, with not only standard patterns, but also the generation of guitar and bass riffs, drum patterns, pads, synth sounds and sound effects. The extensive effects section features up to five insert effects in addition to two master effects and one total effect. A total of 193 effects ranging from flangers, delays and reverbs, to phasers, compression and dynamic processing offer limitless flexibility. The Krome offers creative effect potential within the grain shifter and talking modulator style of effect processing.
The Korg Krome-61 brings unprecedented standards of sonic excellence and variety to the creative gigging musician's arsenal, featuring gorgeous sound especially the unlooped pianos, killer drums, and lots of control over the kits, which are traditionally only found on top of the range models. Perhaps the most impressive, the Krome uses Korg's legendary "German D Grand" as found on their top notch Kronos. The CPU within the Krome has been built to take the full extent of this instruments 61-key full length unlooped stereo samples, even including dampener resonance, a task most other workstations would not be able to handle.
Editing from the front panel is easy, and the new editor software is a breeze. Boot up time is 60 seconds. If you are looking for DAW integration and a multi timbrel sound source, this is the board. The Korg Krome is also available in Krome 73-key and Korg Krome-88-88-key
Digital Pianos
Electronic Keyboards
Organs
Pianos
Player Pianos
World Instruments
Electronic Music
Audio Samplers
Audio Sequencers
Drum Machines
MIDI Interfaces
Production Stations
Sound Modules
Tabletop Synthesizers
Das Keyboard High-Performance Mechanical Keyboards
The World's First Cloud Connected Keyboard.
---