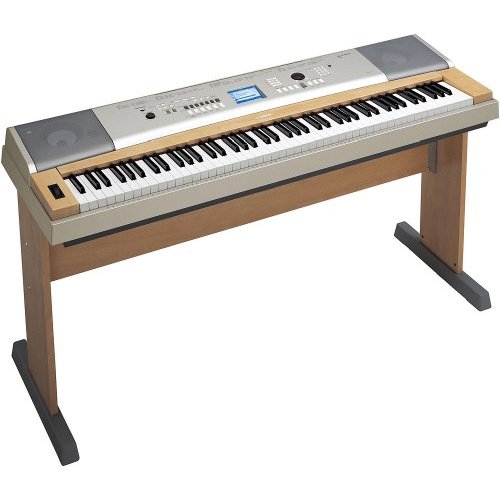 The Yamaha YPG-635 is a portable Grand Piano Keyboard, with 88-key weighted hammer action keyboard. This portable keyboard boasts an authentic grand piano and better than some real pianos and less likely needs an action tune-up. In addition, the YPG-635 comes with an attractive matching keyboard stand, DSP (Digital Signal Processing) effects to enhance sound quality like Chorus, Reverb and Harmony, CD-ROM, lyrics, chord and score (notation) display, Sustain Pedal jack, Headphone jack and AC Power Adaptor.
The YPG-635 has USB TO HOST and USB TO DEVICE, for recordings song and playing back MIDI files, saved user created songs, transfer and download songs data. The song recorder allows you to record your own music to a different track while there are 6 tracks to accommodate rhythm, chord accompaniment and melodies.The keyboard is equipped with 130 panel voices, 12 drum/SFX kits plus 361 XGlite voices. Special Voices like Live (example Grand Piano and Orchestra), Sweet and Cool Voices are also included in it's features. The YPG-635 features 64 Note Polyphony and will play back 16 different types of sounds at once.
This amazing keyboard can teach and guide you to play and practice to perfect if you learn using the Yamaha Education Suite. You can learn the right and left hand parts separately. The display will show you the music, and the corresponding piano keys that you need to press. You can start slow – and it will wait, patiently, until you find and press the correct key before it continues. The YPG-635 is suitable for all level of players and it is worth the price.
---