Electronic Keyboards
Digital Pianos
Portable Keyboard
Synthesizers & Workstations
Free shipping on most items over $9.99!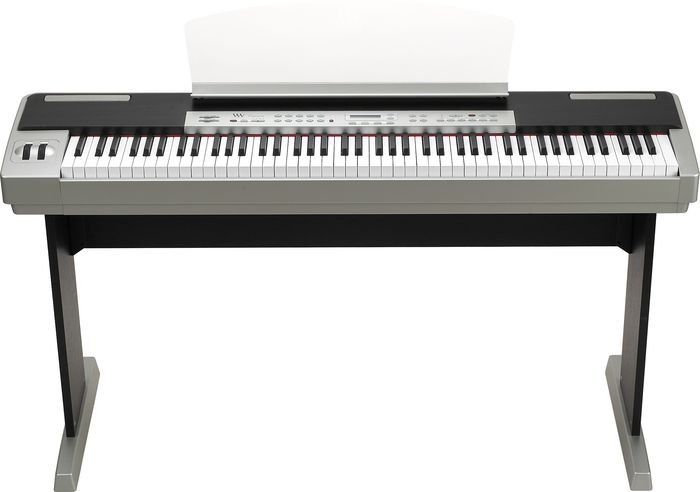 The Williams Encore Digital Piano is a Portable Keyboard. Though Portable, it is not as light as keyboard from other brands but the sound is superb. The Encore features 88 full-size Hammer-Action Weighted keys with 4 different touch-sensitivity setting, allowing users to select the feel that they enjoy most playing. The robust sound system encompassed 30 voices, 32-note Polyphony, metronome, Effects; reverb and chorus, Dual and Split voice modes. The Encore also comes with LCD display screen, 58 play-along practice songs, built-in amplified speaker, MIDI, sustain pedal, pitch-bend and modulation wheels and headphone jack.
The Encore could also be use as a midi controller besides a digital piano. The feel of the weighted action keys is nice if you have tried the acoustic pianos or the semi-weighted keys. Other digital pianos of this price range do not include pitch-bend or modulation wheels but with the Encore it is great to have for a midi controller.
The Williams Encore is the best for the price. The best feel and touch from the lower price models and some of the higher price models too. The Encore's nice feel, pretty good tone and though there are not many sounds to choose from but a perfect portable digital piano keyboard for beginners and true musicians. Check it out. Taking into considerations the features for the price, you are actually getting a very nice keyboard instrument. Go for it! Enjoy!
Digital Pianos
Electronic Keyboards
Organs
Pianos
Player Pianos
World Instruments
Electronic Music
Audio Samplers
Audio Sequencers
Drum Machines
MIDI Interfaces
Production Stations
Sound Modules
Tabletop Synthesizers
Das Keyboard High-Performance Mechanical Keyboards
The World's First Cloud Connected Keyboard.
---