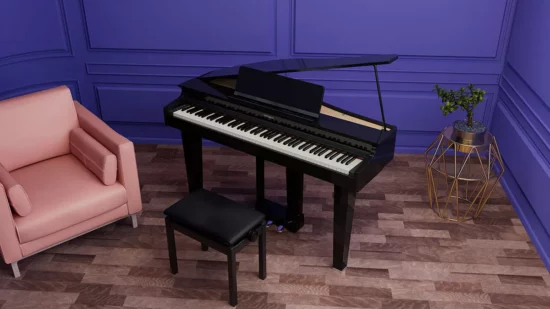 If you have always wanted a grand piano but have never had the require space to house one, Roland has come up with the solution in the shape of the GP-3, an "ultra-compact" model that you can actually fit in your living room.
However, we want to make clear that this is very much a digital instrument, so you are not going to get all the sonic benefits of owning an acoustic grand, but it does have a lid that you can lift up.
In addition, the GP-3 is the tiny grand that Roland says it is. From front to back, it measures less than 70cm. It is also a nice looking piano, coming with a slick gloss black finish.
Under the hood, Roland has used what it calls an "advanced sound engine", and the 88-note hammer-action keyboard promises an authentic grand piano touch, complete with ivory-like feel. Additionally, there are sustain, soft and sostenuto pedals with support for half-pedal techniques, while the stereo speaker system delivers an immersive sound.
There are some clear benefits to the GP-3 being digital, example – Bluetooth audio/MIDI connectivity and compatibility with the Roland Piano App. Other features include a metronome, recorder and dual headphone jacks, and unlike with an acoustic grand, you will never have to pay for the GP-3 to be maintained.
Roland has not mentioned on the price and release date for the Roland GP-3. In the meantime, check it out on the Roland website.
---