Digital Pianos
Electronic Keyboards
Organs
Pianos
Player Pianos
World Instruments
Electronic Music
Audio Samplers
Audio Sequencers
Drum Machines
MIDI Interfaces
Production Stations
Sound Modules
Tabletop Synthesizers
Das Keyboard High-Performance Mechanical Keyboards
The World's First Cloud Connected Keyboard.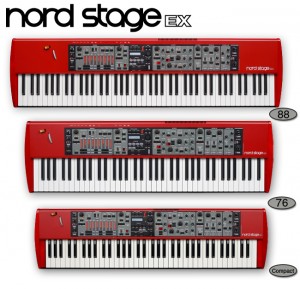 The Nord Stage EX is the successor of Nord Stage featuring Clavia's award-winning technologies. The Stage EX is futher enhanced with increased  internal memory capacity, printed text and new color scheme on the front panel. The Stage EX comes in Compact 73-key model, 76-key model and 88-key model. Like all Nord models the Nord Stage EX is roadworthy and reliable. Additionally, the Nord Stage EX incorporates Piano, Organ and Synth instrument sound which you can mixed and tailored to suit your requirements.
On the Piano sound section there are Grand Pianos, Electric Grand, Electric Pianos, Upright Pianos, Clavinet and Wurlitzer sounds. The piano section is flexible allowing players to substitute any pianos with sounds from Clavia Library of Piano samples at no charge. The Organ sound section comprises of classic models like the B3 Organ model, the Vox Continental and the Farfisa Compact model. The new "Draw buttons" and LED bar graphs is a relief for musicians,  musicians no longer have to worry about  the correct drawbar settings after changing preset.
The Stage's Synth is a "power mini synth" . Claasic Analog Synthesis with hard sync, dual saw and pulse wave modulation. Additionally, it also incorporates wavetable Synthesis with 32 waveforms and the first in a Clavia Synth, and three Synth banks are included like the Synth, Bass and Pad – to enable you to download your original compositions, and each bank has the capacity to store up to 100 sound programs. The Nord Stage EX's flexibility and compatibility enable the instrument to connect and control external devices with ease. Together, Effects, a Compressor and a Reverb produce stunning sounds and many more.  This amazing 3 in 1 package instrument is Clavia's Nord Stage EX.
Digital Pianos
Electronic Keyboards
Organs
Pianos
Player Pianos
World Instruments
Electronic Music
Audio Samplers
Audio Sequencers
Drum Machines
MIDI Interfaces
Production Stations
Sound Modules
Tabletop Synthesizers
Das Keyboard High-Performance Mechanical Keyboards
The World's First Cloud Connected Keyboard.
---