Digital Pianos
Electronic Keyboards
Organs
Pianos
Player Pianos
World Instruments
Electronic Music
Audio Samplers
Audio Sequencers
Drum Machines
MIDI Interfaces
Production Stations
Sound Modules
Tabletop Synthesizers
Das Keyboard High-Performance Mechanical Keyboards
The World's First Cloud Connected Keyboard.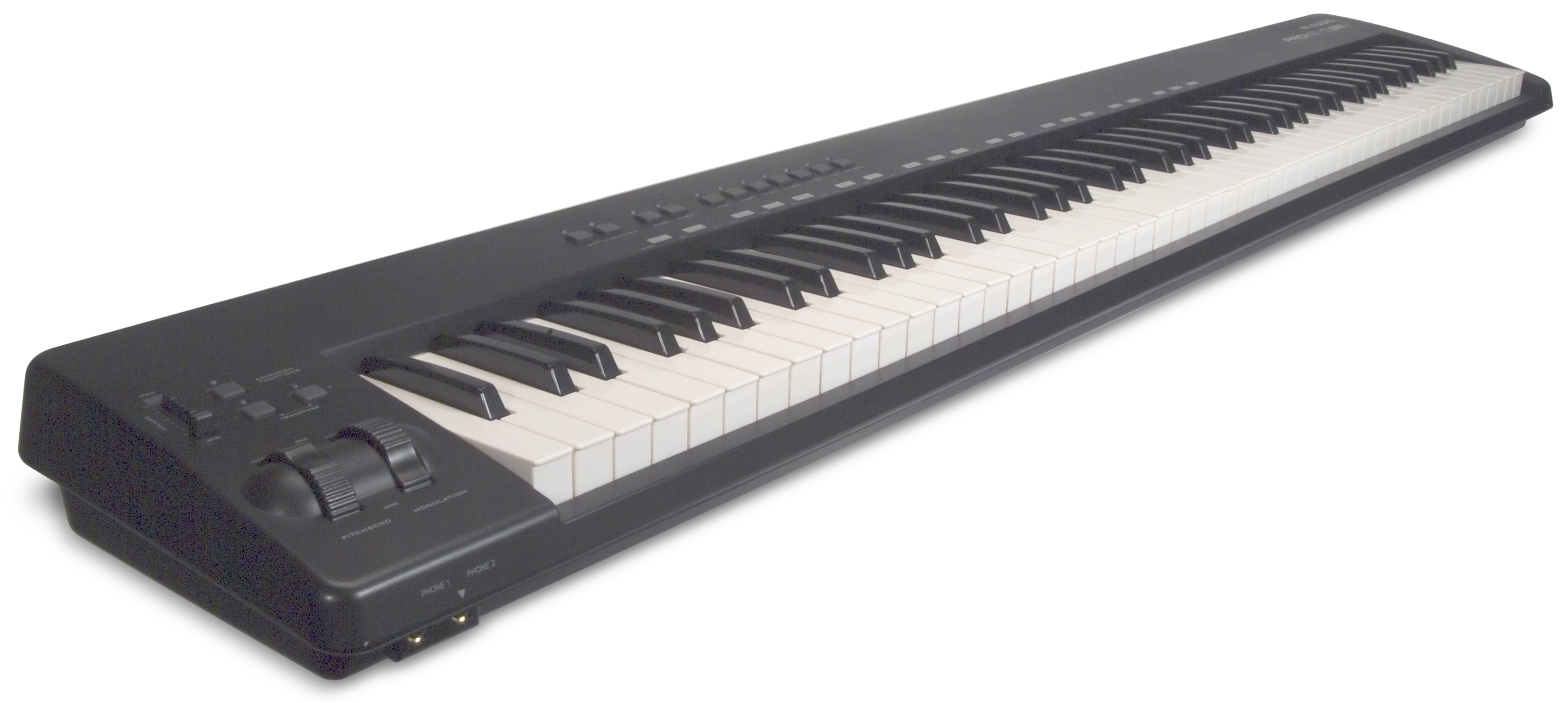 The M-Audio Prokeys 88sx is a Lightweight Stage Piano. The Prokeys 88sx features 88-key Semi-weighted Action keyboard weighing 17 lbs. The stage piano keyboard is extremely portable that you can carry with one arm. The Prokeys 88sx is a great MIDI Controller with USB MIDI interface for easy recording, playback and easy direct connection to PC or Mac and compatible with Windows XP and Mac OS X.
The Prokeys 88sx also incorporates MIDI in and out jacks to communicate with and control other MIDI gear, pitch and modulation wheels, two footswitch inputs, sequencer controls, and many more. In fact, these performance controls are rare on digital stage pianos. The M-Audio ProKeys 88sx Lightweight Stage Piano is loaded with realistic samples – 7 premium world-class instruments sounds including multi-layer stereo grand professional sound, which are accessible by dedicated buttons. The M-Audio Prokeys 88sx creates an ultimate playing experience in a digital stereo piano.
As the ProKeys 88sx delivers all the staple keyboard sounds desired by almost all musicians, the flagship stereo grand piano has grand sound designed to really cut through in pop music tunes like electric pianos — including classic sounds like the Yamaha DX7 and the vintage Wurlitzer. And with the Clavinet, one word will come to your mind: funky. Add on-board reverb and chorus to customize your sound. Acoustic and electric basses give you the option of layering a ride cymbal for jazz tunes, while vibes, ensemble strings, and an inspiring synthesizer pad round a great sonic palette for the serious gigging keyboardist.
Digital Pianos
Electronic Keyboards
Organs
Pianos
Player Pianos
World Instruments
Electronic Music
Audio Samplers
Audio Sequencers
Drum Machines
MIDI Interfaces
Production Stations
Sound Modules
Tabletop Synthesizers
Das Keyboard High-Performance Mechanical Keyboards
The World's First Cloud Connected Keyboard.
---