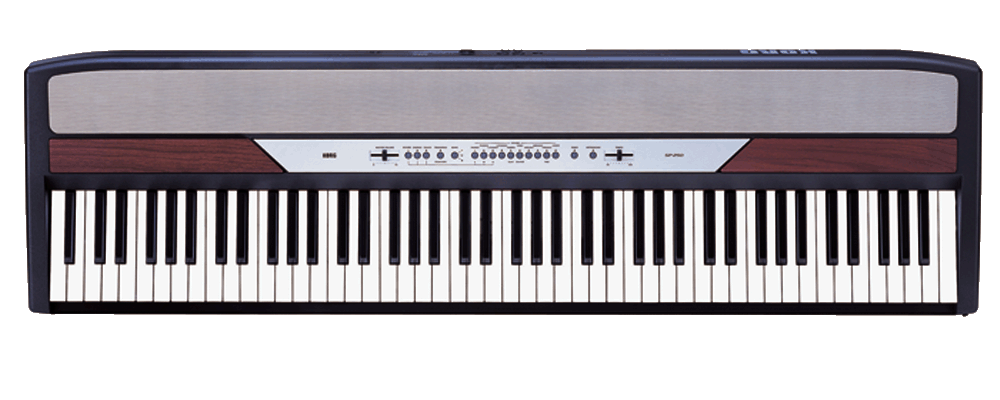 The New KORG SP-250 Portable Digital Piano takes sound and performance to new levels of realism. The lightweight portable SP-250 is the solution for musicians who are always on the move. Korg's prudent, dedication and commitment in sound production is evident in the SP-250 robust and authentic sounds, including a wide variety of piano sounds to cater for different music genre.
The SP-250 has the finest keyboard touch, comes with 88 notes and the pioneer to feature the all new RH3 (Real Weighted Hammer Action 3 Keyboard). This feature delivers the same experience as playing a grand piano. In addition, the Key Touch Control has three touch curves (light, normal and heavy) for you to choose and each deliver the perfect touch sensitivity for every type of song you play and playing style.
The SP-250 is further enhance with Reverb and Chorus Effects. The dual effects are assignable; Light, Normal and Deep (Three levels each) to complement his or her performance. The control panel is simple and user friendly which includes 19 LED indicators for instant visual feedback. The SP-250 can be connected to a synthesizer, computer , sequencer or other MIDI-equipped device using MIDI In/Out jacks, allowing the SP-250 to be used as both a master keyboard and a 16-part multitimbral sound module for performance and composition. The SP-250 is a complete instrument offering sounds, effects, a robust integrated sound system, solid, stylish and collapsible stand, Damper pedal and AC Adaptor. This instrument is perfect for users who appreciate stylish design and sounds.
---