Electronic Keyboards
Digital Pianos
Portable Keyboard
Synthesizers & Workstations
Free shipping on most items over $9.99!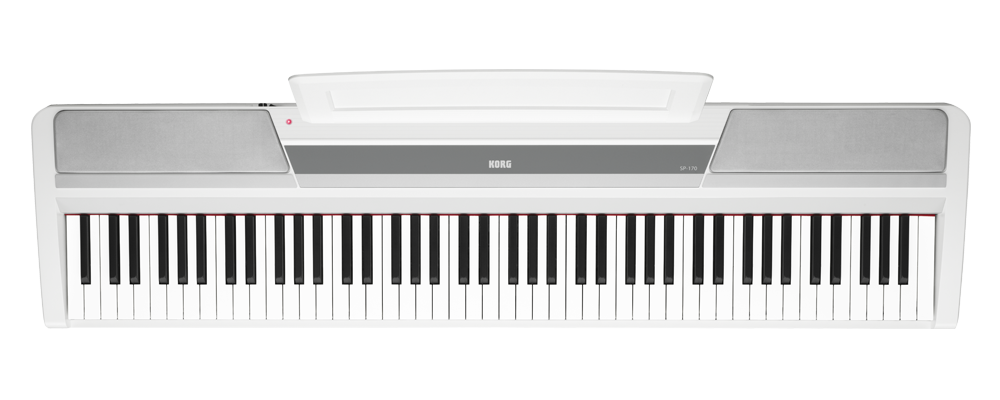 Korg unveiled its most portable and affordable digital piano it has ever developed at the recent Winter NAMM Show 2010, the Korg SP-170 Digital Piano. The SP-170 compact, simple, yet elegant designed piano focuses on what is most important in a piano – authentic grand piano feel and vibrant sounds. The SP-170 features a full 88 notes Natural Weighted Hammer Action (NH) Keyboard, a duo sampled concert grand piano sounds and 8 additional sounds; Electric Piano (x2), Harpsichord, Clav, Vibraphone, Pipe Organ, Electric Organ and Strings, 60 notes (stereo) Polyphony.
Additionally, the newly developed Natural Weighted Hammer Action (NH) faithfully reproduces the touch and graduated weight of acoustic piano keys. Though the SP-170 never requires tuning but it offers adjustable tuning that can be matched to other instruments, and it can also be transposed into any musical key. The self-contained SP-170 houses a robust built-in sound system which ultimately delivers robust sound. Whereas, the Reverb and Chorus effects add warmth and spaciousness to the sound. The Korg SP-170 can be used as the master keyboard for computer music software via the MIDI output. This lightweight and easy to carry keyboard instrument also makes it ideal for live performances.
The Korg SP-170 is also perfect for music beginners and is able to satisfy the most discerning pianists. The portable keyboard weight 26 lbs.
Digital Pianos
Electronic Keyboards
Organs
Pianos
Player Pianos
World Instruments
Electronic Music
Audio Samplers
Audio Sequencers
Drum Machines
MIDI Interfaces
Production Stations
Sound Modules
Tabletop Synthesizers
Das Keyboard High-Performance Mechanical Keyboards
The World's First Cloud Connected Keyboard.
Blogs all over the World
---