Digital Pianos
Electronic Keyboards
Organs
Pianos
Player Pianos
World Instruments
Electronic Music
Audio Samplers
Audio Sequencers
Drum Machines
MIDI Interfaces
Production Stations
Sound Modules
Tabletop Synthesizers
Das Keyboard High-Performance Mechanical Keyboards
The World's First Cloud Connected Keyboard.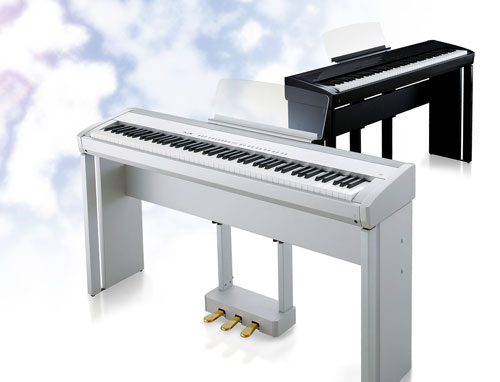 The Kawai ES6 is a new digital piano after ES4. This new instrument is not only compact and portable but also powerful and versatile. The ES6 is an ideal choice for gigging pianists. The ES6 features Kawai's new redesigned 88-Note Advanced Hammer Action IV-F keyboard with Acoustic ReactionTM technology. Using Kawai's critically-acclaimed Harmonic ImagingTM sound technology ; 88-key piano sampling, the ES6 provides a great and brilliant selection of sounds to suits every occasions.
The ES6 redesigned keyboard gives the feel of an authentic piano touch. Kawai also improved on its speaker system to suit the current demand. This unique designed instrument is perfect for live performances and the built-in stereo LINE IN and LINE OUT jacks allows ES6 to connect to audio devices like amplifiers and MP3. With 100 Rhythm section styles to choose from, you can be sure to find a perfect accompaniment as per your requirements. You will also be impressed with other sounds of the ES6 including  Strings/Choir, Electric Piano, Organ, Bass, Mallets – 32 sounds in all. And, any two sounds can be layered together in a DUAL or SPLIT mode.
As I write this, I am actually heightening my grasp and enjoyment of a digital piano. But, most of all thanks to Kawai for introducing this great digital piano, Cheers!
Digital Pianos
Electronic Keyboards
Organs
Pianos
Player Pianos
World Instruments
Electronic Music
Audio Samplers
Audio Sequencers
Drum Machines
MIDI Interfaces
Production Stations
Sound Modules
Tabletop Synthesizers
Das Keyboard High-Performance Mechanical Keyboards
The World's First Cloud Connected Keyboard.
---