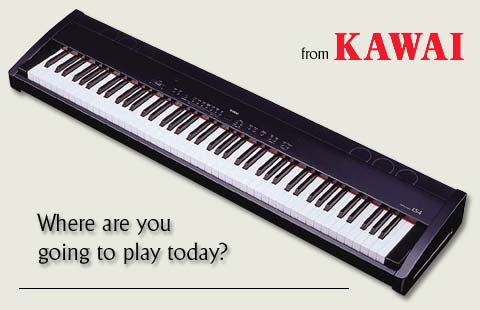 Electronic Keyboards
Digital Pianos
Portable Keyboard
Synthesizers & Workstations
Free shipping on most items over $9.99!
The Kawai ES4 Digital Piano is the perfect answer for any pianist looking for rich piano sounds and the convenience of a lightweight and compact portable EX Concert Piano. The ES4 features 88 note, the all new Advanced Hammer Action IV keyboard and Harmonic Imaging Sound Technology.
ES4 all new Advanced Hammer Action IV is exceptionally responsive even when playing quickly. You can feel the smooth feeling like playing a real grand piano. All Kawai's award-winning digital pianos incorporate Kawai's Harmonic Imaging Sound Technology. This cutting -edge technology creates an acoustic piano sound of remarkable realism, expression and depth.
In addition to its remarkable acoustic piano sound, the ES4 includes a wide palette of sounds of an assortment of electric pianos, strings, organ and 21 sounds all in. Any two sounds can be layered together to play simultaneously in a DUAL mode or SPLIT mode. The ES4 is further enhances by adding six newly designed stereo speakers and power packed amplifier to its sound system. The sound volume is unexpectedly soothing which creates a pleasing surrounding for the player. The Kawai ES4 is a complete portable digital piano offering tremendous capabilities , music rack, Damper pedal and AC Adaptor. The price range for this instrument is affordable.
Digital Pianos
Electronic Keyboards
Organs
Pianos
Player Pianos
World Instruments
Electronic Music
Audio Samplers
Audio Sequencers
Drum Machines
MIDI Interfaces
Production Stations
Sound Modules
Tabletop Synthesizers
Das Keyboard High-Performance Mechanical Keyboards
The World's First Cloud Connected Keyboard.
---