Electronic Keyboards
Digital Pianos
Portable Keyboard
Synthesizers & Workstations
Free shipping on most items over $9.99!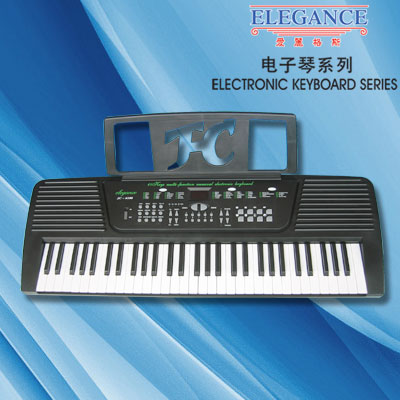 The Elegance JC-6188 Piano keyboard  features 61-Standard keys keyboard and is an ideal keyboard for music beginners and amateur. The Elegance comes with 20 multi-timbres, 20 rhythms and 8 percussions.  Other advance features includes Rising and Descending tone function, Single and Fingered chord, Auto-bass-chord, Synthesizer and digital LED display.
The Elegance is ultra-light and weight approximately 4.77 kg.  You can also record and playback sounds. The Elegance  also includes vibrato, sustain, external speaker, AC Power and Double channel output. The 8 demo songs are cool and what strike me most is the rhythm programming and of course the price, which cost as much as a toy keyboard.
The cool looking Elegance keyboard is great for jamming sessions. If we take away from the product, the brand or business aspect that the particular company has created then this is really about the instrument's music, and music is also an intrinsic part of people life. I hope you will enjoy playing with the keyboard as much as I have enjoyed, Cheers!
Digital Pianos
Electronic Keyboards
Organs
Pianos
Player Pianos
World Instruments
Electronic Music
Audio Samplers
Audio Sequencers
Drum Machines
MIDI Interfaces
Production Stations
Sound Modules
Tabletop Synthesizers
Das Keyboard High-Performance Mechanical Keyboards
The World's First Cloud Connected Keyboard.
---