Electronic Keyboards
Digital Pianos
Portable Keyboard
Synthesizers & Workstations
Free shipping on most items over $9.99!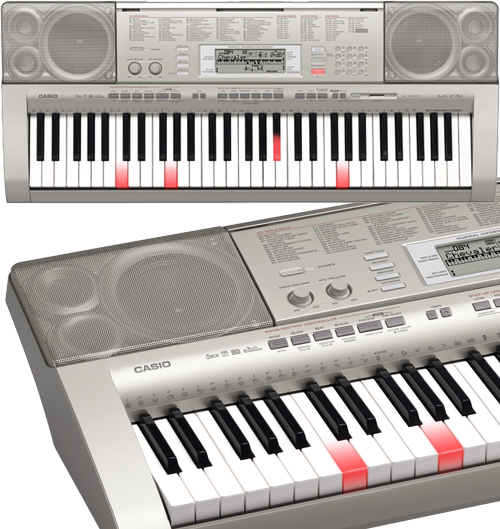 The Casio LK-270 is a Lighted Keys Keyboard featuring 61 standard size keys Touch Response 2 sensitivity levels with 48 notes Polyphony, built-in 570 tones, 180 rhythms, 10 reverbs and 5 chorus effects, Lighted keys Step-up Lesson System, input for MP3 player and microphone, and USB. This affordable keyboard is ideal for beginners and more advanced players.
The LK-270 produces realistic piano sound and robust tones and accompaniments. The Step-up lessons are flexible and user friendly. The lessons are arranged in 3- Steps and you can practice at your own pace. If you have  doubt figuring keys, the Keys will light-up to show you which key to hammer. If the keyboard sense you are having doubt, it will assists you by calling out finger numbers in  a simulated human voice. The Step-up Lesson songs are divided into small phrases to ease beginners to learn and play. After mastering one phrase you can move on to the next phrase. Each time you move on to a new phrase you are actually advancing your ability to play the music keyboard. The LK-270 recorder can perform real-time recording and the keyboard can playback 5 songs.
If you do not intend to invest on an expensive keyboard just yet and 61-key is good enough for you then, I would recommend Casio LK-270.
Electronic Keyboards
Digital Pianos
Portable Keyboard
Synthesizers & Workstations
Free shipping on most items over $9.99!
---