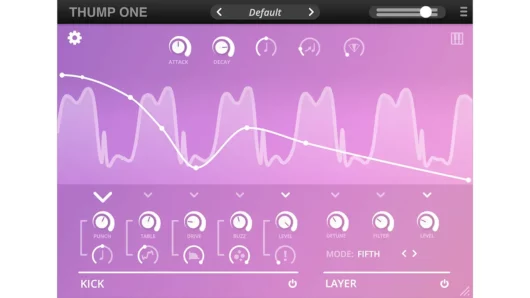 Now, Toybox has something new for you to play with.
Already known for its Reaktor packs, Toybox has now released its first plugin, and the good news is that it is free.
Thump One is a free synth plugin that blends a glitchy wavetable engine with a Roland supersaw-style oscillator.
Thump One is an easy to use music synthesizer plugin. It is a two-engine synth that features a glitchy wavetable oscillator and an emulation of the supersaw oscillator from the Roland JP8000. Stack these two elements together and you should be able to create kick drums, basses and lead sounds.
The supplied set of wavetables is based on both clean and processed analogue kick drums. The Kick engine that houses them also offers a saturation and filtering circuit, plus a Buzz circuit that can create a 'broken speaker cone' effect.
The supersaw engine, known as Layer, offers a selection of operating modes that can configure the oscillator to play in intervals and add various amounts of cross-modulation. The upshot of this is that you can create everything from scuzzy, retro synth sounds to glitches or plain old noise.
Further sound designing can be carried out using the envelopes. There's one for each key parameter, and an automatic curve feature should make shaping a breeze.
The interface is straightforward, and there are 150 presets to get you started.
PC and Mac users can download Thump One for free in VST/AU formats, and there is also an iPad version that costs $4/£4.
Find out more on the Toybox website.
---