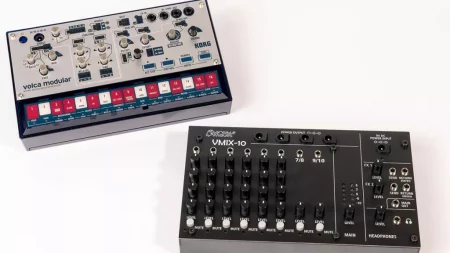 Tangible Waves VMIX10 could be the Korg Volca mini synth mixer you really need. Does this third-party effort trump Korg's own
If you have Korg Volcas or any other mini synths but do not like the look of Korg's dedicated mixer, Tangible Waves has an alternative in the shape of the VMIX10.
Supplied in a case that is said to be similar size as the Volcas', the VMIX10 offers six mono input channels with minijack inputs and two stereo channels with minijack inputs. Each channel has its own mute button and level knob, with the mono channels also having a pan control and two FX send knobs.
In addition, there are two FX send-return sections, plus a master level control and a stereo headphone output with dedicated level control.
The VMIX10 comes with a power supply and has four power supply outputs for your Volcas or similar devices.
The Tangible Waves VMIX10 will be shipping in the middle of this month priced at €145 (excluding tax).
Find out more on the Tangible Waves website.
Das Keyboard 6 Professional - Begin to enjoy your modern workday.
Jazz Up Your Valentine's Day With Filmora
Filmora 12
Edit Anywhere,in Every Way.
New Year's Eve Party
Sam Ash Holiday Deals
AmpliTube 5 MAX $/€99.99 deal
MAX Madness - up to 83% off MAX music software bundles
TONEX Pedal
Christmas Tree Video
---