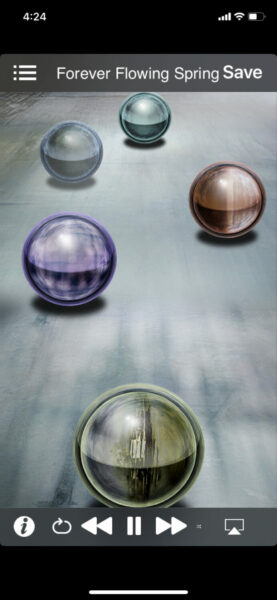 Ambient electronic artist Steve Roach and developer Eric Freeman have released updated versions of their Immersion Station ambient music apps as free downloads for iPhone.
The Immersion Station series features four iPhone apps that enable you listen to continuous, evolving ambient soundscapes. The App plays an ambient soundscape, made up of 5 loops that are represented in the interface by orbs. The loops different in length, so they the combine in constantly changing ways.
You can reposition the orbs to customize the mix, with the left-right axis controlling panning and the top-bottom axis controlling the prominence of elements in the mix.
What they say about the updated apps:
"As an elegant interactive sound immersion tool, users can create infinite mix combinations from five different soundworlds of varied lengths, for endless evolving playback.
Created from the soundworlds of ambient music pioneer Steve Roach, Immersion Station IV places the listener in the center of a sublime, ever evolving sound environment. The user can create mixes for a personalized immersion experience or use it in the evolve mix mode."
Compatibility:
Phone

Requires iOS 12.0 or later.

iPod touch

Requires iOS 12.0 or later.

Mac requires macOS 11.0 or later and a Mac with Apple M1 chip or later.
The Immersion Station apps are available now as free downloads.
---