Squarp Instruments has introduced the Hapax, a new hardware sequencer that is designed to be the centerpiece of your rig.
The company says that the Hapax "offers every tool needed to compose songs in the studio and perform them on stage. From vintage to modern synths, from modular systems to your favorite DAW, Hapax can sequence and synchronize all your gear, while bringing you carefully crafted tools, designed for maximizing creativity."
The Hapax can handle up to a million notes and events; has MPE compatibility; offers input and output via DIN MIDI, USB MIDI & CV/Gate; features more than 180 physical controls; supports saving and loading to SD cards and more.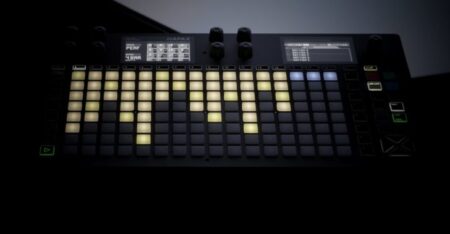 Features:
Player

Dual Project: 16-track × 8-pattern + 16-track × 8-pattern
Polyrhythms / Polymeters / Phasing
Track run-modes : reverse, pingpong, random
Track length: 1 step to 32 bars
Performance

3 live modes : scales, chords, drum
Project real-time global scale
High recording resolution: 192ppqn
Real Time Midi Effects (Arpeggiator, Chance, Euclid, Harmonizer, Randomizer, Scale, Swing…)
Live recording with looper & metronome
Transpose track
Misc

Undo / Redo / Snapshot
Advanced modMatrix
Assign 8-pot mode
Step

3 step modes: polyphony, drums, MPE
Algorithmic composition tools
Quantizer with strength
Loop points on each track
Conditional trigs possible on each note + Fill
Automation editor with interpolator
Pattern/Song

Advanced pattern mode
Song editor mode, based on sections (groups of patterns)
The Hapax is available now for $979.
---