Spitfire Audio has announced the Abbey Road Orchestra: Low Percussion.
Low Percussion explores the timbral and textural range of 20 drums from across the orchestral repertoire and further, with up to seven beater options per drum, performing hits, rolls, swirls and sweeps, performed by virtuoso percussionist Joby Burgess and sampled in incredible detail.
Spitfire says that the new sound library lays the foundations for their flagship Professional Composer Series, as the most detailed sample library that it has ever created. It features performances by British world-class percussionist Joby Burgess (Black Panther, Mission: Impossible) in Abbey Road Studios' world-famous Studio One, beautifully captured by GRAMMY® Award-winning engineer Simon Rhodes (Skyfall, Avatar).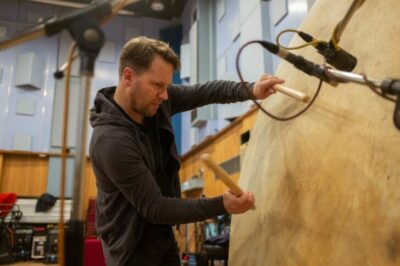 Company co-founder Paul Thomson describes the new sound library as "a collection of unique and rare instruments, captured in extreme detail, and with really expressive feel. This is the most detail we have ever created in any of our projects."

Abbey Road Orchestra: Low Percussion is available as an AAX-, AU-, VST2-, and VST3-compatible, NKS-ready plug-in with an intro price of £299.00 (inc. VAT)/$349.00 /€349.00 (inc. VAT) through December 1, 2022 (normally £399.00 (inc. VAT)/$449.00 /€449.00 (inc. VAT)).
---