Soundtoys has released SuperPlate, a new plugin that emulates the unique tonal character of five classic electromechanical plate reverbs, plus extra classic saturation and a few modern twists.
The company says that SuperPlate's algorithms capture "a level of unmatched realism and versatility and create luscious, immersive effects".
SuperPlate is built around meticulous models of the EMT 140, EMT 240, Audicon, EcoPlate III, and Stocktronics RX4000 plate reverb units. It also features three different flavors of analog coloration – Tube, Solid-State, and Clean. The Tube and Solid-State modes are modeled on the EMT V54 preamp for tube saturation and the EMT 162 preamp which has a built-in compressor to help tame transients.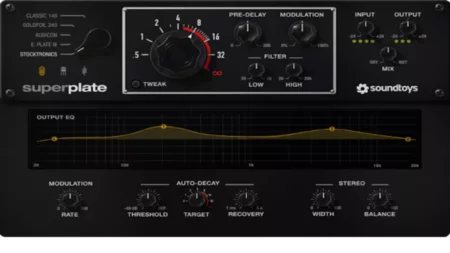 SuperPlate also includes a range of modern digital features, including:
Infinite decay time,
Built-in pre-delay,
Expanded modulation controls,
Full-featured EQ for detailed tonal shaping, and
A unique decay ducking option that adjusts decay time to avoid overlap or masking.
"We love the sound of real plate reverb and wanted to bring the distinctive sound of our vintage plate collection into the world of modern audio," says CEO and lead designer Ken Bogdanowicz. "After analyzing and living with these devices for several years our team captured the true essence and variety of tones from the five different plate reverbs that we modeled for SuperPlate. We always try to take our effects beyond 'simple emulations' and with SuperPlate I feel like we found the perfect balance – switchable modeled preamp styles, built-in parametric EQ, and extended and dynamic decay time – to make SuperPlate a versatile go-to reverb effect. It sounds great and it's fun and easy to use."
SuperPlate with Vocals:

SuperPlate with Drums:

SuperPlate with Electric Piano:

SuperPlate is available individually, or as part of Soundtoys V5.4 bundle, which brings together 22 audio effects, with the following introductory pricing through June 14, 2023:
SuperPlate is available individually for $79 (reg $149)
Soundtoys 5, now including SuperPlate, is available for $499
Upgrade/crossgrade pricing is also available. Find out more on the Soundtoys website.

---