SoundGhost Scatter granular effects plugin transforms any sound into an ambient soundscape. You can create expansive atmospherics, shimmering reverbs and generative melodies with this granular processor
SoundGhost has released a new effects plugin called Scatter. It is designed for creating granular soundscapes, shimmer reverbs and scattered sonic textures.
Scatter processes audio into tiny recorded loops, or grains, that are combined and repeated to create cloud-like textures of sound. Up to 64 grains can be generated, while their stereo position and duration can be randomized to create evolving, generative sonics. The grains are displayed in a visualizer at the top of the plugin window.
Grains can be sculpted using controls for duration and amplitude, or even pitched up or down to create unique atmospheric effects. The pitch transposition can be locked to a variety of modes, including chromatic, octaves, fifths and minor and major, and pitch can be modulated to create generative melodies, as seen in the video below.
Incoming audio can be frozen to create an endless, sustained loop, and the grains' playback can be reversed or fed back into the input for reversed textures and longer decays. Additionally, there is an onboard reverb that adds a "dark and expansive" character to the sound.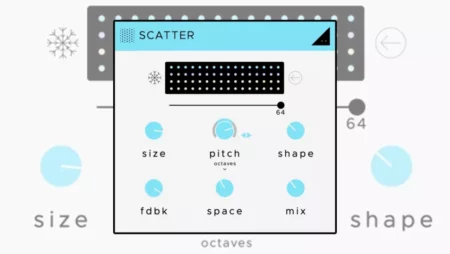 Scatter is available for Mac and PC in AU/VST3 formats.
Scatter currently available for an introductory price of £39(regular will be £49).
Find out more on SoundGhost website.
---