Perfect Circuit let us know about an exclusive release, the PULSAR-23 Andrew Huang Edition.
A collaboration between musician/video producer Andrew Huang and the creative minds at SOMA Laboratory, the PULSAR-23 Andrew Huang Edition is priced the same as the standard PULSAR-23, but features a limited edition color scheme and custom knobs.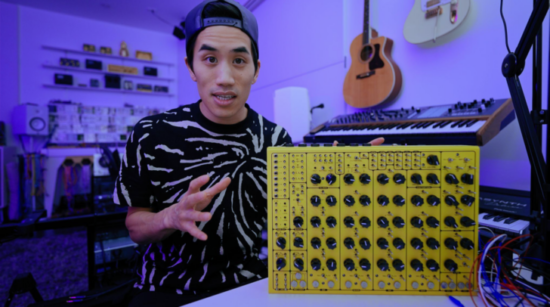 The SOMA PULSAR-23 'organismic drum machine' has become a cult classic instrument, because of its unique, hands-on design. The PULSAR-23 features 52 knobs, 11 switches and over 100 inputs and outputs, which mean you have a tremendous range of immediate control over the sounds and rhythms that you can explore.
PULSAR-23's four voices are tailored to produce kick, bass, snare, and hat sounds, all of which can be controlled using the built-in recorder/sequencer or external MIDI or control voltages.
The Perfect Circuit exclusive PULSAR-23 includes a custom colorway, knobs, and hat — all developed in collaboration with Andrew Huang to complement his unique take on this experimental drum machine.
Features:
Exclusive Andrew Huang artist edition experimental drum machine
Custom neon yellow colorway with custom knobs + alligator clip hat
Four-voice analog sound generation with digital effects
Alligator clip interface for experimental + intuitive patching experience
Control via built-in sequencer, MIDI, or control voltages from modular synthesizers
The Pulsar-23 Semi-Modular Drum Machine Andrew Huang Edition is available now for $2,250.
---