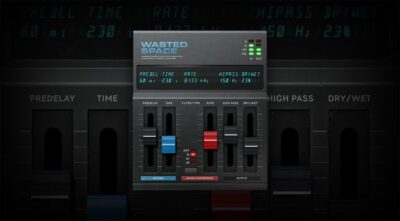 Softube finds a use for Wasted Space with its new lo-fi reverb plugin
Wasted Space is a reverb plug-in designed to bring the beloved sound of the less-than-perfect digital reverbs of the 80s to your DAW.
Designed for "instant and extreme" lo-fi vibes, with a "retro-futuristic" interface and promises to deliver that bang-on-trend '80s sound. There's variable sample rate and selectable aliasing filter type, and a high-pass filter that is designed to reduce low-end rumble.
So, if you are a fan of the exaggerated aliasing artifacts found in early digital reverbs, Softube Wasted Space plugin could be right in your processing wheelhouse.
Features:
Intentional exaggeration of aliasing artefacts that were present in early digital reverbs.
Variable sample rate and selectable aliasing filter types let you quickly find your ideal lo-fi vibe.
High pass filter to reduce low-end rumble.
Pre delay and time sliders to effortlessly adjust traditional reverb parameters.
Dry/wet slider for finding the perfect balance on a track or going completely wet on a bus.
Featuring Softube Extended Features for even more control.
Wasted Space is available now for PC and Mac: native instruments  (VST/AU/AAX), and modules for Softube Amp Room and Modular software, at the intro price of  $35/€35 until July 31st, after which it will be $59/ €59
Find out more and download a demo on the Softube website.
---