Currently, Native Instruments' Komplete bundles sales are not as common as they once were, so if you are looking to buy one of them, now could be the time. That is because the company is currently offering up to 50% off its all-encompassing Komplete 13, with prices starting at just $99/£89/€99.
That is the price you'll currently pay for Komplete 13 Select, the baby of the family that features 12 instruments, four effects and five expansions. With the regular price being $199/£169/€199, that is a 50% saving.
Step up to the standard Komplete 13 and you can save 33%, with the price for this 52-instruments, 16-effect, 73-expansion bundle currently down to $399/£359/€399 from £599/£539/€599.
If you want even more content – 92 instruments, 26 effects and 39 expansions – try  Komplete 13 Ultimate, currently available for $799/£719/€799 rather than $1,199/£1,079/€1,199. Again, that is a 33% saving.
Lastly, the all-singing, all-dancing Komplete 13 Ultimate Collector's Edition, which includes almost all the software that Native Instruments has to offer. That means 96 instruments, 26 effects and 73 expansions, all for $999/£899/€999 rather than $1,599/£1,439/$1,599, a 37% saving.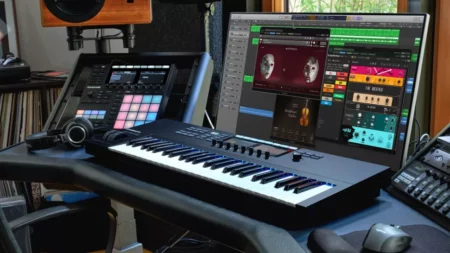 You can find out more about each Komplete 13 bundle and place your order  here .
Sam Ash Holiday Deals
Samson Computer Microphones: Save Up to 70%
Shop Now
for Up to 60% Off Discounts.
UNO for All - Save up to $/€200 on your choice of analog synth and drums
Strum, Stream and Save - Save up to 50% on a huge selection of iRigs
MODO Friday sale - MODO BASS & MODO DRUM bundle starting from $/€99.99
Up to 64 sound libraries free - SampleTank Squared
IK Black Friday MAX deals
AmpliTube 5 MAX $/€99.99 early Black Friday deal
---