Sampleson SandStorm plugin could be a cheap code for creating epic, evolving soundscapes.
If you spend a lot of time, money and effort on creating cinematic evolving soundscapes, SandStorm could be your answer.
SandStorm is a simple plugin designed for generating these Hollywood-esque atmospheres in seconds.
It's secret sauce is its ability to stack up to 17 sound sources, including orchestral instruments, analogue synths and both granular and wavetable modules. Want to introduce a bit of wind noise? There's a layer for that.
Parameters can be assigned to mouse macro control, enabling you to tweak your sounds to taste simply by dragging the mouse over the GUI.
If you want the ultimate in convenience you can use the supplied presets. Additionally, it is possible to build up your own textures from scratch.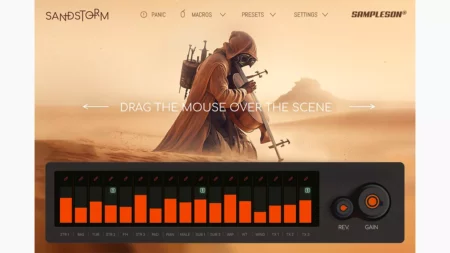 Although Sandstorm has obvious appeal for beginners, Sampleson suggests that it could also be useful for pros who want to sketch out quick ideas without setting up a massive multitrack DAW project. It could also be used for playing live ambient sounds.
Available for PC and Mac in VST/AU formats, SandStorm is available now for the introductory price of $39. The regular price will be $59. Find out more on the Sampleson website.

Das Keyboard 6 Professional - Begin to enjoy your modern workday.
Jazz Up Your Valentine's Day With Filmora
Filmora 12
Edit Anywhere,in Every Way.
New Year's Eve Party
Sam Ash Holiday Deals
AmpliTube 5 MAX $/€99.99 deal
MAX Madness - up to 83% off MAX music software bundles
TONEX Pedal
Christmas Tree Video
---