Roland has officially introduced the SP-404 MKII, a new version of its performance-focused portable sampler with improved pads, an OLED screen, new effects and more.
This Roland SP-404MKII creative sampler promises next-level performance beatmaking.
The SP-404 MKII version promises everything that users loved about its predecessor as the design is based on Roland's own research and users feedback, but also new features such as more expressive pads and updated knobs. Boot time, project loading and sample import have also been speeded up.
The SP-404MKII comes with 16GB of internal storage, which is loaded with a collection of "curated" samples. Power can be provided by AA batteries or a power bank, and you can interface with mobile devices via USB. Further connectivity includes dual headphone outputs and a mic/guitar input.
Another highlights is the OLED screen, with a zoomable waveform view promising to ease the process of sample editing. Samples can be chopped up in realtime or you can auto-chop, with envelope and pitch shift enabling further tweaking.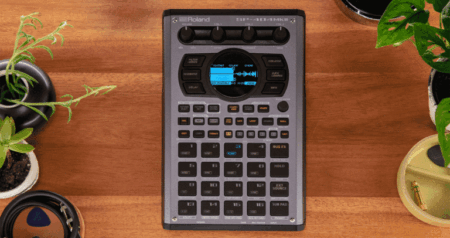 In addition, there is a new resampling workflow which enables you now re-record patterns and effects layers. Skip Back Sampling, meanwhile, enables you to capture the last 25 seconds of audio from your most recent performance, ensuring that those unforeseen moments of inspiration would not be lost.
As with Effects, you get both your SP favourites – the likes of the Vinyl Simulator and DJFX Looper – and new processors such as Lo-fi, Cassette Simulator, and Resonator. The Vocoder, Auto Pitch, and Guitar Amp Simulator effects, meanwhile, can be applied directly to the mic/guitar input.
Other enhancements include the sequencing workflow. You can apply adjustable input quantize and shuffle for custom swing, link pads so that you can trigger multiple samples, or hit the Roll button for variable note repeat. The BPM can be set on a per-note basis, enabling instant tempo changes, and sets can be chained together.
Lastly, there are new customization options: download a faceplate template and you can create custom overlays, and you can personalize both the logo on the startup screen and your screensaver.

Here's what they say about it:
"Lightning-fast boot time, project loading, and sample import will have you knocking out beats in no time. Plus, 16 GB of internal storage give you ample space to store your creations or have your favorite samples at the ready. Whether you're a beatmaking newbie or an SP pro, you'll feel right at home with the intuitive layout and classic SP effects, plus a revamped sampling and sequencing workflow, Skip Back Sampling for quick performance capture, DJ mode to mix beats live, and more.
The SP-404MKII makes on the go beatmaking even easier. With its lightweight-yet-rugged design and expanded features, this unit is ideal for making amazing sounding beats on the move. Run it on AA or mobile battery power, capture audio from or stream directly to your mobile device via USB, or collab with a partner using the dual headphones outputs and mic/guitar input.
With the SP-404MKII's vivid OLED screen and zoomable waveform view, sample editing is smooth?as silk. Chop up samples by tapping out edit points in real time?or?slice samples automatically.?Then finesse them with envelope and pitch shift.?Use the new resampling workflow to re-record patterns and effects layers for detailed sound design. And with?Skip Back Sampling, you can?preserve?those?fire?moments by capturing?up to 25 seconds of audio from your last?jam.?Now, it's never been easier to?dial in and?cook up?beats?the moment inspiration strikes."
Features:
OLED display for visual waveform editing, full menu access, and more
17 velocity-sensitive, RGB pads with no-click design for smooth playability
Faster workflow with quick startup and load times, 16 GB internal storage, low-latency pads, and rapid sample editing
Compact, ultra-lightweight design (2.6 lb./1.2 kg) with versatile power options: USB-C, mobile battery (via USB-C port), six AA batteries, or AC adaptor
Extensive onboard effects, including SP classics like Vinyl Simulator and DJFX Looper, new Lo-fi, Cassette Simulator, and Resonator effects, and dedicated Vocoder, Auto Pitch, and Guitar Amp Simulator effects for the mic/guitar input
32-voice polyphony, 160 samples per project, and 16 internal projects for expanded programming possibilities
Blazing onboard sample editing with real-time or auto-chop mode, auto BPM detect, envelope, pitch shift, and resampling for layering sounds and phrases
Pre-loaded sound library with 144 high-quality, professionally recorded samples and patterns
Extensive customization options with removable metal faceplate, downloadable outline template, multiple screensavers, and personalized startup logos
Upgraded I/O includes 1/4-inch line in/out, 1/4-inch mic/guitar input, 1/4-inch and 1/8-inch headphones outputs, and 1/8-inch TRS MIDI in/out
New resampling workflow for re-recording with various effects for detailed sound design
Audio capture and streaming supported with mobile devices and computers via USB-C
Skip Back Sampling to automatically capture up to 25 seconds of audio from your last performance
Bus FX for layering multiple effects, with customizable routing for creating intricate sound textures
Adjustable quantization and shuffle percentage across multiple note resolutions to customize swing
Pattern sequencer with the ability to create full songs with BPM per bank, ideal for running backing tracks or programming performances
Chain patterns for automatic playback and use Pad Link to trigger up to four samples with a single press
DJ Mode enables new approaches to live performance by manipulating and mixing two separate audio files
SP-404MKII editor software for Mac and Windows provides direct sample access, detailed waveform editing, sample management, pad assignment, and import of MIDI files and legacy SP-404SX and SP-404A projects
Roland SP-404 MKII Review & Hands-On Demo
In his latest video, host Ziv Eliraz takes an in-depth look at the new Roland SP-404 MKII.
"I've created a comprehensive review, tutorial, and tips and tricks video," notes Eliraz, "helping people both get to know what it can do, and overcome some of its weaknesses.
The Roland SP-404 MKII features an OLED display, 17 expressive pads, expanded effects, fluid sequencing and sampling, and a massive sample library.
Find out more on the Roland website. The #CommissionsEarned Roland SP-404MKII  now   available priced at $500.
Topics covered:
0:00 Intro
1:35 Overview
6:15 Sample playback
10:55 Speed/pitch
13:10 Input effects
15:10 Bus effects
19:10 Pad fx routing
23:20 Sampling
25:50 Resampling
26:25 Slice & chop
29:00 Sequencing
33:30 Skip back
34:25 DJ mode
36:40 Software
38:50 Obscure shortcuts
40:20 Chords & scales
41:50 Phasing loops
42:25 Saving effects?
42:50 Odd meters
43:10 Loop links
44:10 Loop chokes
44:30 Overdub audio
44:50 Make a synth
45:50 Pros & cons
48:30 Outro
"As an Amazon Associate, I earn from qualifying purchases"
---