Automix is a free AI tool that will mix your music for you, and you can try it right now for free.
An 'automatic mixing' solution has long been mooted – one that will save musicians from having to learn anything about engineering and just make their songs 'sound good' – and the rise of AI has made it seem to arrive.
The platform is known as Automix by RoEx. The company previously released an AI tool designed to 'listen' to your mix and then tell you what's wrong with it, and now it's gone the whole hog and developed one that will take the reins and do the actual mixing as well.
Automix is a web-based application that enables you to upload your multitracks, adjust a few basic preferences for each of them (instrument type, level of reverb required, desired pan position) and then you sit back and watch as the AI takes care of the rest.
You can also choose the overall style of your mix and assign a level of importance to each track – low, medium or high – which indicates how much 'presence' you want it to have in the finished song.
"Just as Instagram transformed photography by making filters universally accessible, we aspire to revolutionize the world of music production," says RoEx CEO David Ronan (via MusicWeek). "We recognize the modern musician's desire for professional sound without the intimidating complexities of compressors, EQ settings, or the necessity for costly studios and intricate plugins. Our mission is to make top-tier production quality both accessible and efficient for all creatives, without any barriers."
What's more, according to Ronan, this could be just the start: "Looking to the future, we envisage our technology integrating seamlessly with various DAWs, whether they are traditional desktop systems or emerging cloud- based platforms," he says. "While the exact roadmap is still unfolding, our direction is unwavering: to democratise professional music creation, making it accessible and intuitive for all."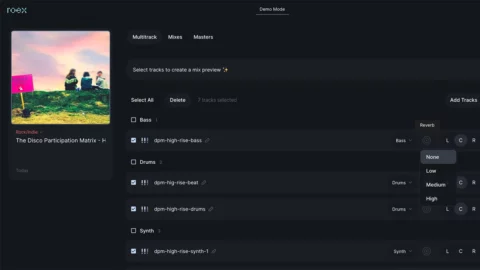 Automix can only work with eight tracks at a time, but it's fair to say we've never seen anything quite like this before. The platform even promises to master your music, ready for release (it's perhaps significant that one of the other directors of RoEx is Josh Reiss, one of the co-founders of online mastering platform LANDR).
If you want to test Automix you can do so for free on the RoEx website. You'll just need to create an account. Your finished, mixed tracks can be downloaded on a pay-what-you-want basis.
---