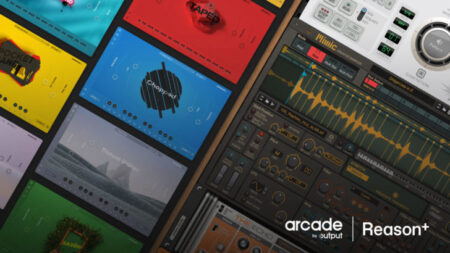 Music production technology companies Output Inc. and Reason Studios have partnered together to create the Arcade & Reason+ together in a single subscription Bundle, a complete package of instruments, effects and samples for music creators. This package pairs two plugin collections for music makers.
There's no doubt that music software subscription services are here to stay, but if you have a few of them, the costs can quickly start to mount up. You can now get Output Arcade and Reason+ – two of the more high-profile services – together in a single bundle.
Offering a sizable and growing collection of instruments, effects and samples – not to mention the Reason 12 DAW – the Arcade & Reason+ Bundle is full of inspiring, accessible content that you can use to spark new track ideas or improve existing ones. "We are thrilled to partner with Reason to create our first-ever bundle of this kind, allowing music makers even easier access to the tools they need to get creative in the studio" says Gregg Lehrman, CEO at Output Inc.
Yana Mahal, Make MORE Beats With These 2 Plugins | Arcade & Reason+
Highlighting the launch, Output and Reason Studios will be hosting a livestream event on the Reason Studios YouTube channel on July 5 at 10 a.m. PDT with artist and producer Yana Mahal. Expect plenty of great stories and music-making tips. Viewers can watch at this link.
"Both Reason+ and Arcade have the same goal: helping music producers to focus on their creativity and ideation," adds Niklas Agevik, CEO at Reason Studios. "The pairing of Reason's virtual studio rack of innovative synthesizers, drum machines, players and audio effects with Arcade's inspiration machine of samples and playable instruments is the complete creative bundle for music producers, and at an unbeatable price too."
Jordan Atkins-Loria, Speed up your beatmaking workflow | Arcade & Reason+
Both the Reason Rack Plugin and Arcade support all plugin formats (VST/AU/AAX) and can be used in any DAW, whether it be Ableton Live, Pro Tools, Logic Pro, FL Studio or any other major DAW.
The Arcade and Reason+ bundle includes two annual subscriptions — one to Reason+ and one to Arcade. The package costs $249/year (a 17% savings compared to purchasing both annual subscriptions separately). Through July 14, the bundle subscription is available for $149 for the first year
Find out more and sign up on the Reason Studios website.
---