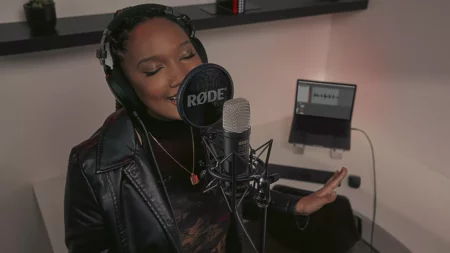 Rode NT-1 is the world's most popular studio microphone, and with more than six million units sold across a 30-year lifespan, that certainly seems plausible.
Now the company is attempting to write a new chapter in the NT-1's story with the release of the 5th Generation model. This adds a number of innovative features designed to aid both convenience and performance.
Firstly, Rode claims there's the new Dial Connect output, which puts both XLR and USB ports into a single housing. So, you can switch between analogue and digital workflows just by changing your cable, and you are promised "the same rich, warm tone" whichever connection method you choose.
Rode also claims, somewhat startlingly, that the new NT-1 is "unclippable", thanks to a 32-bit float digital output that captures the full dynamic range of the microphone while also enabling DAW users to optimize the audio after recording. Therefore, you no longer need to worry about setting your gain correctly beforehand.
"The NT1 5th Generation redefines the meaning of plug-and-play," says RODE CEO Damien Wilson. "Since the beginning of audio recording, engineers have relied on the gain knob to capture clean audio – it's always been the most important process in the recording workflow.
"The NT1 5th Generation changes that completely. When recording in 32-bit float, users can literally plug their microphone into their computer and start recording instantly without any risk of their audio being ruined by clipping or distortion."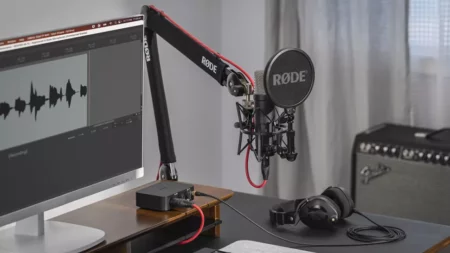 Other features of the digital output include Rode's Revolution preamp – this promises low noise and high gain – up to 192kHz A/D conversion and onboard DSP that enables you to apply Aphex processing to your audio. This comes in the shape of a compressor, noise gate and two-step high-pass filter, plus Aural Exciter and Big Bottom effects.
The processing can be tweaked with Rode's two apps, Rode Central and Rode Connect, which enable you to choose from the simplified VoxLab editor, which has just Depth, Sparkle and Punch controls, or the advanced editor that gives you control over every single parameter.
The NT1 5th Generation ships with a shock mount, pop filter and both XLR and USB cables. It features an HF6 large-diaphragm gold-sputtered capsule and is available in either silver or black aluminium. It will be available to order in March priced at $249, and you can find out more on the Rode website.
---