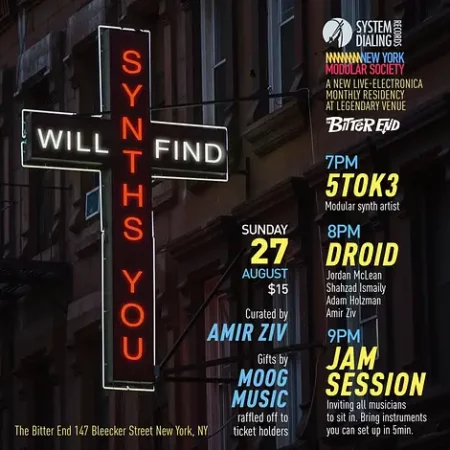 The New York Modular Society has announced a new monthly live electronic residency, Synths Will Find You, at NYC music venue The Bitter End.
The event will be held the last Sunday of each month, starting Sunday, August 27th.

The inaugural event will feature several sets:
Opening Set 7-8pm will spotlight a different modular synth artist each month. Opening night (Sunday, August 27th) will feature the electro creations of the Brooklyn-based British artist 5ToK3. With an almost entirely Cwejman rig, 5ToK3 combines deep basses and pure oscillator waveforms to create his distinctive heavy experimental D n B / techno sound.
Second Set 8:15 – 9:15pm will feature NYC's electro/acoustic supergroup Droid, w/ Amir Ziv on drums and electronics, Jordan McLean on brass and electronics, and Adam Holzman on synths, piano, and Fender Rhodes. The band's rotating bass chair has included low-end mavericks Tim LeFebvre, Yossi Fine, Hagar Ben Ari, Jonathan Maron, and Shahzad Ismaily (who will be joining the band on opening night, Sunday, August 27th).
Third Set 9:30 – 10:30pm Droid will facilitate a live-electronica jam session that invites students enrolled in electronic music programs as well as any other musician looking to jam to come sit in. They ask that participants bring instruments that can be set up in five minutes or less.
At the end of the night, a raffle will be held for two ticket holders to each win a complete MoogerFooger plugin bundle, complements of Moog Music.
Details are available on the event page.
---