The classic loop reimagined with multiple tonal variations – A drummer has recorded 75 new versions of the Amen Break for you to use in your music.
The Beat Shed has introduced The Amen Break Re-recorded, a new loop library that offers 75 new takes on the famous 'Amen Break'.
Don't mess with classics, they say, and drummer Merlin Mathews – co-founder of drum and percussion loop/sample library The Beat Shed – is happy to agree that you can't improve on the "perfect" Amen break, which is regularly cited as the most sampled drum loop in history. But what if you could hear it differently, with subtle tonal variations?
This idea inspired Mathews and his business partner Kimberley Rew to create The Amen Break Re-recorded, a new sample library that features 75 new versions of the classic loop. This was created using three kick drums, five snares and five ride cymbals, each of which went through a recording setup designed to achieve the "maximum possible sonic contrast". The break was then performed using every possible combination of these sounds.
The sample pack contains 77 drum loops, all of which clock in at 136bpm, and there are also 11 additional percussion loops. It's available in multiple different formats – WAV, REX2, Apple Loops, Stylus RMX and full multitrack – and prices range from £22.50 to £29.50. You can find out more about the gear used and the recording process on The Beat Shed website.
The producers note that, because the Amen break is such a 'busy' groove, you may hear audible artefacts if you decrease the tempo by more than 10bpm when using one of the 'sliced' formats, which may be something to be aware of.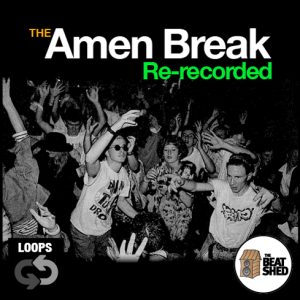 If you haven't heard of the Amen Break, the original Amen Break is a six-second, four-bar drum solo performed by Gregory C. Coleman in the Winstons' 1969 song Amen Brother, a B-side to the single Colour Him Father. It's been sampled in thousands of songs, and is one of the foundation of several electronic music genres , such as drum & bass, and jungle.
If you do not want to use a sample, another option would be to re-record the break yourself. The Amen Break Re-recorded is available now, priced starting from £22.50.
---