The acclaimed physical modelling keyboard instrument goes mobile.
Pianoteq comes to iOS, and if you own the desktop version, you will get it for free
Pianoteq iOS the mobile version is said to be an exact replica of the desktop software (now up to version 8), but with a reworked interface. In addition, we're told that it will even work on older devices – right back to an iPhone 6s running iOS 15.
Unlike a lot of piano plugins, Pianoteq uses physical modelling to create its sounds rather than samples. This means that it can create a pretty broad variety of tones – not only acoustic pianos, but also electric ones, harpsichords, vibraphones, guitar, steeldrums and more. Another benefit is that it will take up very little storage space.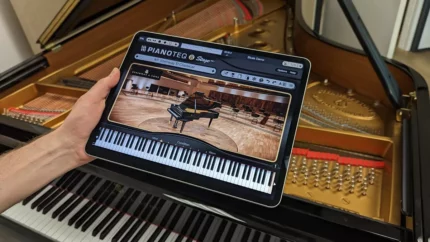 The iOS app itself is free. This enables you to demo all of the available sounds (certain keys will be disabled) and you can unlock your first two instrument packs by purchasing a Pianoteq Stage license (€139).
The good news is that, if you own the desktop version, you'll immediately have access to the iOS one. Similarly, any licences you purchase via the App Store will carry over to the desktop version.
Pianoteq for iOS runs standalone and as an AUv3 plugin, so you can use it for playing and performing or in a suitable host. Find out more on the Modartt website.
---