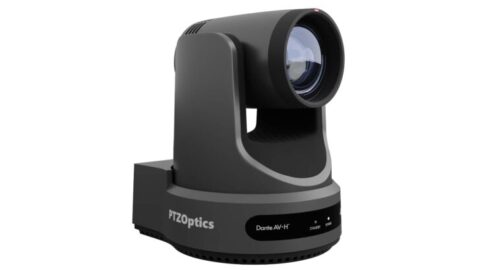 At The 2023 NAMM Show, held April 13-15 in Anaheim, CA, PTZOptics debuted their LINK 4K camera line, which features both the DANTE audio and video over IP protocol and support for MIDI control.
DANTE, or Direct Audio Network Technology Exchange, is an audio over IP protocol that allows a reliable, low-latency connection for multiple digital audio devices over a network. DANTE enables users to route their audio signals through multiple devices into a single Ethernet-connected audio mixer, for example. DANTE AV-H is the latest video extension to the DANTE ecosystem which allows for FullHD video to be routed within a local area network (LAN).
With PTZOptics LINK 4K cameras, musicians can now reach a whole new level of interactivity and control in their performances. MIDI-enabled cameras allow musicians to control pan, tilt, zoom and preset adjustments, using your current MIDI hardware and software.
Take a look at the company's approach to MIDI camera control:

Find out details on the PTZOptics website.
---