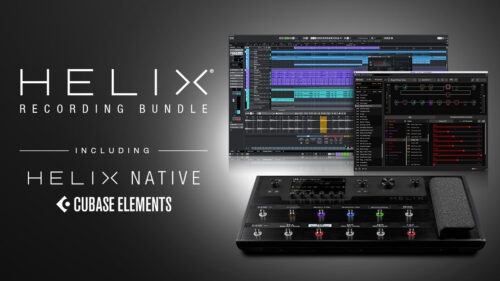 You can get Cubase Elements and Helix Native plugin for nothing when you buy a Helix Floor, Helix LT, Helix Rack or Helix Control
Line 6 has always been a game-changer. The Spider redefined the home practice amp, the DL4 showed the world what was possible with a digital delay, and the Helix changed the face of multi-effects forever – and the latest Line 6 promotion looks like it may be a game-changer as well. Right now, you can get your hands on Cubase Elements and the Helix Native plugin completely free of charge when you purchase a Helix hardware processor!
Yes, that is right, you can bag yourself a major studio upgrade for free when you purchase a Helix Floor, Helix LT, Helix Rack, or Helix Control – that's $499.98 worth of free studio software, as well as a kick-ass new multi-effects unit.
So how do you claim your free stuff? Well, it couldn't be easier. All you have to do is register your new Helix product at the Line 6 website and upload a copy of your receipt. Then your Cubase Elements and Helix Native licenses will be deposited into your Line 6 account – simple as that!
Better yet, you have from now until 28 February 2022 to get in on the action. So if this sounds like a promotion you simply can't pass up, then check out the best deals we could find on Helix products from authorized Line 6 dealers  – just remember to hang on to your proof of purchase.
Go Paperless with Edraw OffersUp to 60% off creativity products
Wondershare DemoCreator Summer Sale 2021
---