New iOS MIDI Generator, TATAT, creates always-changing sequences. K-Devices TATAT MIDI streams generator plugin is now being offered as an AUv3 MIDI FX for iOS.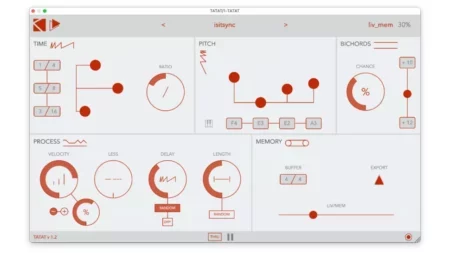 What they say about it:
"TATAT is a (unstable) MIDI notes generator: it's a creative tool to assist and help producers and musicians to generate new ideas, becoming a great starting point for writing melodies and beats, and a perfect controller for virtual instruments and hardware gears alike.
TATAT is designed to create always-changing sequences, to quickly sketch music ideas, to add unexpected events to fixed patterns.
Notes generation in TATAT is based on a multi-chance concept: user sets up for multiple rhythms, multiple notes, intervals, and other parameters value. Using dedicated multisliders the user can then adjust the chance a note and/or a time resolution are adopted on next trigger, creating complex streams of events. The generated notes are then processed by several operators: Velocity, Less, Delay, and Length.
TATAT produces then a stream of notes based on settings and probabilities: we call these settings "mood".
Once user got the right mood, he can do different actions:
to enjoy the always changing stream of notes
to enable "thru" to add the generative stream of notes on the top of a fixed MIDI clip/file or live MIDI input
to inject stability by using LIV/MEM horizontal slider, to mix between the live generated stream and a frozen pattern"
TATAT is available now as AUv3 MIDI FX plugin for iOS 10.9 or later:
Launch price: $2.99 /€ 2.99 (until June 30)
Regular price: $6.99 /€ 6.99 (after June 30)
---