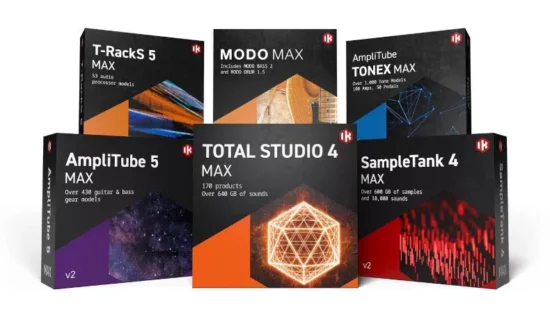 Ahead of the 2023 NAMM Show, IK Multimedia has announced that they will be introducing their Total Studio 4 MAX and entire completely revamped software line. The 2023 NAMM show being held next week April 13-15 in Anaheim, CA.
First up, leading the change we have Total Studio 4 Max, IK Multimedia biggest all-in-one software bundle yet. Designed to cover every stage of the music creation process this contains a whopping 170 products, 640GB worth of sounds and 500 effects. Additions to version 4 include Tonex Max, Modo Bass 2, Modo Drum 1.5, AmpliTube MESA/Boogie, 12 new SampleTank libraries, 12 new Syntronik synths, and 2 new T-RackS modules: The Farm Stone Room and Joe Chiccarelli Vocal Strip.
Next we have AmpliTube 5 Max v2
, features all 18 brand/artist collections for more amps, cabs and effects. Users now have 435 gear models to work with and 6,000 presets (available via ToneNET). Additions include AmpliTube MESA/Boogie 2 and all four virtual X-GEAR Pedals.
And T-RackS 5 MAX v2 price is dropping, as well, with 15 new processors coming along for the ride. There are now 53 mixing and mastering plugins, including all the latest T-RackS releases: The Farm Stone Room, Joe Chiccarelli Vocal Strip, Comprexxor, Sunset Sound Studio Reverb, T-RackS Leslie, all 4 models of the TASCAM Tape Collection and FAME Studio Reverb.
Lastly, it's a similar story in SampleTank 4 Max v2. This includes all 28 SampleTank libraries (these were sold separately up until now), all 34 synths from Syntronik 2 Max, SampleTron 2 and the full version of Miroslav Philharmonik 2. These titles sit alongside the still-included SampleTank 4 factory content, all the legacy SampleTank 2 and 3 factory content and all the legacy SampleTank 3 libraries. That all adds up to 600GB of sounds and over 18,000 instruments in all.
IK Multimedia also says that it's lowered its pricing across the board. Total Studio 4 Max starts at $/€300 for eligible customers, while AmpliTube 5 Max v2, T-RackS 5 Max v2 and SampleTank 4 Max v2 all start at $/€200 for eligible customers.
The upgrade process for returning customers has also been simplified, with a single upgrade-for-all policy. Regardless of the IK product purchased, all registered IK users will now have access to any software product at upgrade pricing. To be eligible, the registration of any paid product, be it software, hardware or even just an app, is the only requirement. Similarly, any registered owner of another IK MAX product is eligible for IK's MAXgrade price on the new Total Studio 4 MAX. All the new Max bundles are available now on the IK Multimedia online store

Total Studio 4 MAX – 30 new products added

More affordable prices with more accessible upgrades

IK Releases 4 New MAX Bundles
---