IK Multimedia has introduced a turnkey Dolby Atmos monitoring system, the iLoud MTM Immersive Bundle.
iLoud MTM studio monitors are now available in the Dolby Audio Room Design Tool (DARDT) for Atmos systems, so you can install a multi-monitor setup that adheres to Dolby's standards.
The Bundle features 11 iLoud MTM monitors and an ARC MEMS Microphone. iLoud MTM's built-in ARC self-calibration system adjusts in seconds, correcting each monitor's output, to ensure the most precise and balanced sound from every position, including ceiling-mounting. IK says that the result is "a true phase-coherent response across the useful frequency spectrum for unbelievably natural sound."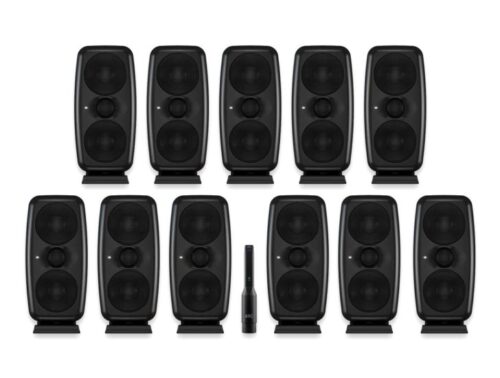 Features:
Built-in acoustic correction tunes to any placement
Point-source performance regardless of distance
Controlled dispersion reduces acoustic issues
Included in Dolby DARDT (Dolby Audio Room Design Tool) for precise installation
Integrated LFE bass management
Compact design that's easy to mount anywhere
iLoud MTM for immersive systems
11 is available now for €3999.99
Up to 64 sound libraries free – SampleTank Squared
Tape Machine $29.99 Krazy Deal
IK Black Friday MAX deals
AmpliTube 5 MAX $/€99.99 early Black Friday deal
Up to 50% Off Das Keyboard Black Friday & Cyber Monday Sale!
Shop Now
for Up to 60% Off Discounts.
UNO for All - Save up to $/€200 on your choice of analog synth and drums
Strum, Stream and Save - Save up to 50% on a huge selection of iRigs
MODO Friday sale - MODO BASS & MODO DRUM bundle starting from $/€99.99
Up to 64 sound libraries free - SampleTank Squared
IK Black Friday MAX deals
AmpliTube 5 MAX $/€99.99 early Black Friday deal
---