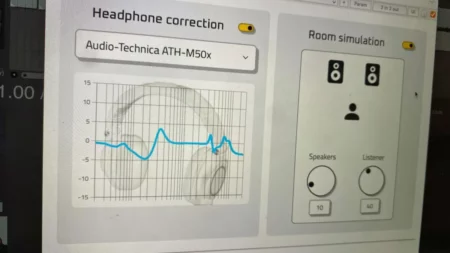 Hornet Plugins' new HoRNet VHS plugin offers the advantage of being simple and very affordable.
Can Hornet's affordable VHS plugin help you to create better mixes while wearing headphone.
VHS does not emulate the warbly sound of old video tapes, but instead applies frequency correction and room simulation to your cans. The theory is that this will enable you to produce mixes that translate well to multiple systems.
There are more than 100 preset headphone models in the database, and the room simulation algorithms promise to recreate the acoustics of a pro studio. No worry if you want to replicate the sound of high-end monitors and natural reverb, HoRNet VHS can does that.
Once you have chosen your headphone model you get a graphic representation of the correction EQ being applied, and you can also adjust the position of the speakers and listener in the virtual 'room'.
Features:
Frequency response correction for more than 100 headphones models
Graphic display of correction EQ applied
Room simulation with physically modeled reflections
Frequency response of speakers changes depending on their position
Listener position adjustable in room simulation
Speakers position adjustable in room simulation
Vector user interface which is sharp on every resolution
Support for light and dark mode on both windows and mac
Apple Silicon native support
macOS (10.11 and later) and Windows (Vista and later) support.
64-bit on Mac and Windows.
Audio Units, VST, VST3 and AAX format.
Find out more on the Hornet Plugins website.
VHS runs on PC and Mac in VST/AU/AAX format sand costs just €11. There's also a demo version.
---