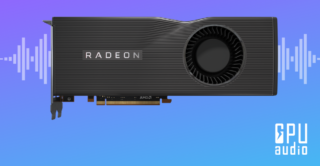 A Swiss startup company is building a Digital Signal Processing platform that enables you use your computer's Graphics Processing Unit (GPU) to accelerate audio processing,
GPU Audio has announced that their patented audio technology is now supported on select AMD Radeon RX and AMD Radeon PRO graphics hardware.
Developed in collaboration with AMD, the update makes GPU Audio's responsive, high-fidelity audio technology available to millions of AMD Radeon graphics users. AMD Radeon graphics owners can use GPU Audio's technology with all the advancements it brings — including low latencies, network connectivity, exponential scalability, A.I. processing and more.
Alexander Talashov, CEO of GPU Audio explains how the companies set a blueprint for unified collaboration:
"Together with AMD, we solved some fundamental computer science challenges," notes Alexander Talashov, CEO of GPU Audio. "The way AMD works with us illustrates the right approach towards dealing with innovations, and focuses on providing users with new disruptive technologies."
Carl Wakeland, Fellow Silicon Design Engineer at AMD adds, "Together with GPU Audio, AMD is enabling PCs and laptops powered by Radeon graphics to become true prosumer audio workstations without the need for additional equipment. The results from GPU Audio are audibly amazing, and bring to reality what we knew was possible."
AMD Radeon graphics users can download GPU Audio's Early Access FIR Convolution Reverb now, a free VST audio effect compatible with music software such as Ableton Live, Reaper, Cubase, and many more, as well as video editing packages like DaVinci Resolve. A beta-suite of GPU-powered plugins will be unveiled in the coming weeks, with an SDK for external developers on the horizon.
GPU Audio has shared an interview covering a deeper dive into this technology via Linked In.
via John Swinimer, AMD
---