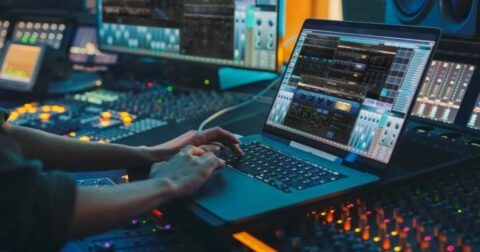 At The 2023 NAMM Show, GPU Audio and Mach1 introduced the Mach1 Spatial System, a free tool that is designed to take advantage of your GPU to power flexible spatial and multichannel audio mixing.
The Mach1 Spatial framework unifies all multichannel and spatial audio formats, making it format, codec, and platform agnostic. Mach1 Spatial is 100% transparent, with no additional filtering or signal-altering processing required to simulate spatial audio, enabling Mach1 to bring much-needed interoperability and standards to spatial audio production and development.
Features:
Transparent spatial audio mixing: The spatial audio mixing framework from Mach1 Spatial means there are no additional room models, delays, or filters to simulate spatial audio (unless the user adds them themselves), and the mixing sound-field environment is 1:1 synonymous with stereo mixing expectations but scaled for 3D spaces.
Flexible multichannel and spatial audio outputs: By utilizing Mach1 Spatial as the intermediary format, the user will have access to the publicly maintained Mach1Transcode API and be able to effortlessly output any multichannel or spatial audio format, whether it is any of the sub-specs of the following: Mach1 Spatial, Dolby Atmos, Sony 360 Reality Audio, ambisonics, surround, etc,.
Continuous multichannel master file rendering: As the user plays the spatial audio mix downstream to this product, the app will intelligently join the played segments and continuously update a rendered master file to the user's hard drive; this removes the requirement to figure out how to externally "arm and record" this app, and the user is no longer expected to figure out how to manually render or export a distributable file as they need. The user can also finely enter the start and stop points as needed for precision.
No additional save file required: All the mixing settings for multichannel and spatial audio mixing are saved with the user's DAW project settings. This is true even if the DAW does not support multichannel audio.
Aggregated head-tracking input: This product will have an aggregated head-tracking tool included, allowing users to add their own head-tracking hardware/software for better spatial audio monitoring. The head-tracking tool is open-source, so IMU or head-tracking-enabled device manufacturers, developers, or users can add new units as they appear on the market, providing more user access and flexibility to this tool.
Better spatial/3D visual aid: Additional tools to monitor and visually view the spatial sound-field mix and even spatial metering.
Opensource playback tool for sharing mixes: Another component that lets users brand their own player to share their spatial audio content as they prepared in their preferred spatial audio format while we are waiting for more distribution market adoption.
An accompanying series of Mach1 Spatial System Pro-Tier paid plugins are also being designed to take advantage of GPU processing for audio, which will further enhance the Mach1 Spatial System workflow for spatial audio.
"Spatial audio is not just a processing effect or feature; it is a new medium," states CEO Jacqueline Bosnjak. "We are ensuring what has existed for stereo as a medium can also exist for multichannel and spatial audio. Since we all understand stereo and no one owns it, we can collectively develop tools that interface with it properly, which allowed it to thrive as a creative digital medium. Mach1 and GPU Audio are building tools to enable spatial audio to reach its full potential as a new medium where artists and engineers have full creative control"
The free cross-platform Mach1 Spatial System, in collaboration with GPU Audio, will be released later this year.
---