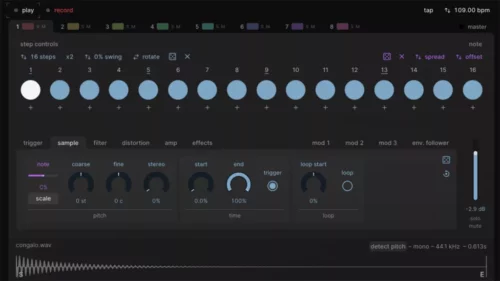 Tahti.studio is a free Elektron-inspired groovebox for your web browser.
Tahti.studio was released in December and has already been updated with new features, such as a note parameter that can be quantised to a freely configurable scale with support for microtonality and Scala tuning files. There have been plenty of fun browser-based online music-making tools down the years, but the Tahti.studio groovebox looks significantly more capable than most of them.
Inspired by Elektron's hardware grooveboxes, this offers sample-based sound generation, and a library of sounds and patterns comes included. There are eight tracks and plenty of flexibility – each track has its own multimode filter, distortion, frequency shifter, sample-rate reducer, and amp envelope. Almost all parameters can be modulated on a per-step basis, and there are three freely assignable modulation sources per track.
Each step can have its own micro-timing, retriggering, probability, and trigger conditions, while tracks can have individual lengths and sequencer speeds. There are chorus, phaser, reverb, delay effects and a master compressor and soft clipper.
Get your groove on over at the Tahti.studio website.
---