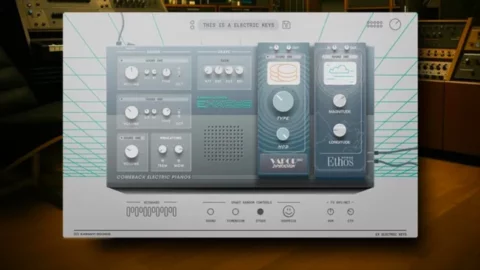 The wind beneath your wings? Electric Keys is free plugin that gives you those classic '80s ballad FM electric piano sounds. Learning to love these DX-style tones is the greatest love of all.
Fans of big '80s ballads can start preparing their truck driver key changes, because Karanyi Sounds has just released a free plugin that focuses on those classic FM electric piano sounds that were found in the likes of Yamaha's DX7 and helped to propel the likes of Whitney Houston, Chicago, Bette Midler and Phil Collins to the top of the charts.
Electric Keys is described as a set of "comeback electric pianos". It comes with "10+" presets, one of which gives you that classic 'LA' sound. Sounds have three individually tweakable layers and there are dual DSP effect units: Vapor Dimension MK2 contains 10 algorithms, and Ethos offers 20 types of reverb.
In addition, there are various randomisation options, and all controls offer MIDI learn.

It runs on PC and Mac in VST/AU formats.
Electric Keys has a regular price of $29 but can be downloaded for free for a limited time by using the code on the Karanyi Sounds website.   
---