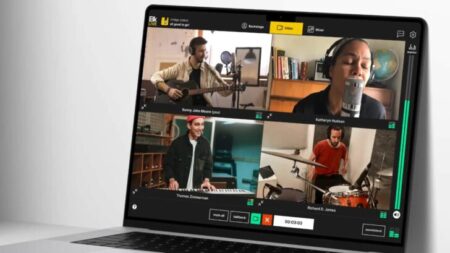 Elk has launched a native app version of Elk LIVE for Mac OS desktop, an application that lets musicians jam over the Internet, with ultra-low latency.
Features:
Up to 5 Player Sessions: Elk LIVE lets you connect up to five people and play like you are in the same room.
Mixer: The onboard mixer gives you total control of Elk LIVE and lets you send two channels of audio and receive the same from each player.
Video Chat: Visually connect with each other to see important queues and communicate with your bandmates. Elk LIVE uses the camera and microphone on your computer for chatting – much like a Zoom call – so as not to interfere with the real-time live audio from your jam session.
What they say about it:
"With Elk LIVE, musicians can come together in its online virtual studio for real-time remote jamming, rehearsing, and collaborating ideas for songwriting – in perfect sync and with high fidelity, studio-quality audio as if they were in the same room. The new Elk LIVE native app for Mac OS is also ideal for delivering live online music lessons; now that Elk LIVE is available as a software-only download, students can easily download the software and connect with their teachers online for a low-latency, real-time lesson."
The Elk LIVE native app for Mac OS is available now as a free download at https://www.elk.live/. There are no restrictions and anyone with a Mac OS system can download the software, create an account with no financial credentials required, and begin jamming online immediately.
Elk LIVE for Mac OS is available now as a free download. The service is currently in beta and is free. Details on pricing are to be announced.
---