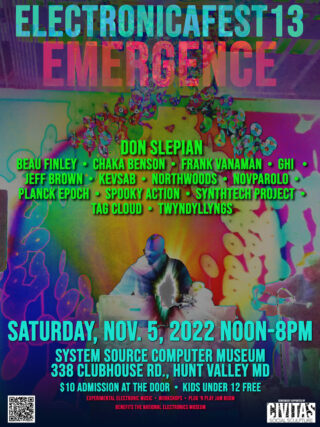 Electronica Fest brings experimental electronic sound to DC area this November 5.
Electronica Fest is a day-long celebration of electronic music performances and educational workshops, returns this Saturday, November 5 – 12pm to 9pm.
After a two-year COVID hiatus, the festival is at a new location this year in Hunt Valley, Maryland, at the Computer Museum at System Source. Admission is $10, which also includes admission to the Computer Museum.
Musical performances and educational workshops:
ElectronicaFest is November 5 at the Computer Museum at System Source, 338 Clubhouse Rd, Hunt Valley, MD 21031.
The festival features live performances from local musicians Beau Finley, Chaka Benson, Frank Vanaman, GHI, Jeff Brown, KEVSAB, Northwoods, Novparolo, Planck Epoch, Spooky Action, Synthtech Project, Tag Cloud, and and Twyyngyllyngs. ElectronicaFest will conclude this year with an evening performance by headliner Don Slepian.
ElectronicaFest Schedule:
12noon – GHI (Greg Kist and Hal Schmulowitz)
12:40 – Planck Epoch (Eduardo Cervantes and Dave Vosh)
1:20 – Frank Vanaman
2:00 – Novparolo (Bev Stanton and Winston Psmith)
2:40 – Spooky Action (Rick Kowlaski)
3:20 – Beau Finley
4:00 – Jeff Brown
4:40 – Northwoods (Charlie Kramer)
5:20 – Synth Tech Project (Logan Mitchell Sr.)
6:00 – Kevsab (Joe Wall and Rimas Campe)
6:40 – Chaka Benson
7:20 – Tag Cloud (Chris Videll)
8:00 – Twyndyllyng (Bill Fox and Howard Moscowitz)
8:40 – 9:30 – Don Slepian
Educational workshops will include 'Programming in ChucK', a program for real-time sound synthesis and music creation, and 'MIDI programming with Plogue Bidule', a cross-platform modular music software application. There will also be a Jam Room at the festival where attendees can plug in and play between sets throughout the day, as well as take advantage of the opportunity to tour the computer museum that organizers say "is worth the trip itself."
ElectronicaFest got its start in 2009 with the support of the National Electronics Museum (NEM), who sponsored that first event at their facility in Linthicum Maryland. The success of that first festival earned ElectronicaFest a slot on the annual NEM event calendar that would continue for the next ten years. The last live ElectronicaFest was held at the NEM in 2019. Due to COVID and a changing relationship with the owner of the space, the museum is now slated to close in 2023 and a new home for the hundreds of historically-significant exhibits is currently being sought. As a way of saying 'thank you' for the NEM's past support of ElectronicaFest, this year's show is a fundraiser to assist in NEM's relocation activities. For more details, check out ElectronicaFest on Facebook.
---