Developer Oliver Greschke has introduced Elastic Melody, a 3-track synthesizer and sequencer.
The focus of Elastic Melody is on fast and intuitive creation of melodies with a distinctive 'analog' sound.
Each of the synthesizers has its own sequencer, with independent sequence start/end and step len/speed, letting you create polyrythmic sequences. In the master section there are 4 effects (EQ, Chorus/Flanger, Delay, Reverb). And all parameters of a synthesizer and master effects can be automated.
A song screen gives you the option of arranging several patterns into a longer piece of music (song). Patterns can be moved and rearranged, including the number of repetitions.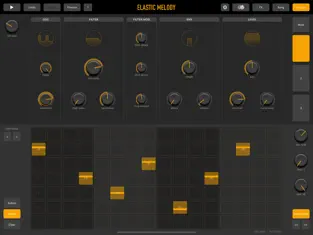 Features:
SYNTHESIZER / SEQUENCER
– 3 tracks, each with an analog subtractive OSC that is connected to an associated sequencer
– Every track sequencer has its own start/end/timing parameter (allowing polyrhythms)
– 14 parameters per synth engine (waveform, lowpass, highpass, env, etc.)
– For each parameter, value changes can be drawn in an automation window
– Solo or mute function for the 3 synth channels
MASTER FX
– 4 master effects (EQ, Chorus, Delay, Reverb)
– Automation for most parameters of the effects
– Master FX has its own start/end and timing parameters for automation
SONG MODE
– Arrange several Pattern to a longer sequence … a Song
– Repeat count for Song Elements/Pattern
– Duplicate/Rename/Delete function for Pattern and Song Elements
FUNCTIONS
– Undo / Redo
– Various randomize functions
– option to share and import presets
– AUv3 support
– Ableton Link support
Elastic Melody is available now for $6.99 / €7.99 / £ 6.99
---